Stories, Crafts and 2 Awesome Authors!
Sunday, October 21, 2018 - 11:00am

Join authors Margaret Greanias and Christy Mihaly for story time, crafts, and book signing. They'll read their newly released picture books, which promise lots of rollicking good times, and they're bringing fun crafts and activities to share. Book signing to follow!

Recommended for ages 3-6 and a grown-up to help!

The books:
Hey, Hey, Hay (A Tale of Bales and the Machines That Make Them). In this rhyming picture book, a farm girl tells the story of how she makes hay with her mother: "Listen and I'll tell the tale/ of storing summer in bale." The tractor pulls the special machines that help them turn grass into bales of hay. Illustrated with fabulous art by Pura Belpre honor winner Joe Cepeda, this story celebrates farming, the seasons, and the mother-daughter relationship. In the back, you find a glossary of haymaking terms (such as baler, tedder and switchel), along with a recipe for switchel, the traditional haymakers' drink.

Maximillian Villainous. Maximillian Villainous doesn't have the heart to be a villain. When he brings home a bunny to be his sidekick, his disapproving mother challenges Max and the bunny to become a devious duo. Otherwise... the bunny hops. Will they give into villainy, or will they find a way to stay good and still win the family's acceptance? For anyone who loved "Leonardo, the Terrible Monster," this is a humorous book about learning to follow your heart and proving that kindness can outweigh villainy any day. Up and coming illustrator Lesley Breen Withrow brings the characters to life with bold and colorful illustrations in a style reminiscent of Richard Scarry.

About the Authors:
Christy Mihaly writes from a desk overlooking her hayfields in Vermont, under the supervision of her dog and cat. She has published a half-dozen nonfiction books for kids, about topics including moose, redwoods, fashion, food, and math. She lived in the Bay Area for more than twenty years in her prior life as a lawyer.

Margaret Chiu Greanias was inspired by her children's love of the "Despicable Me" movies and all things "Minion" when writing Maximillian Villainous, her debut picture book. She lives with her husband, three children, and a fluffle of dust bunnies in the San Francisco Bay area.

$16.99
ISBN: 9780762462971
Availability: On Our Store Shelves Now
Published: Running Press Kids - August 28th, 2018
---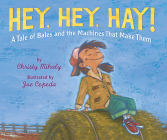 $17.99
ISBN: 9780823436668
Availability: In Our Warehouse - Expected arrival in 2-5 days
Published: Holiday House - August 14th, 2018
---