Science Madness for Babies and Kids!
Sunday, August 13, 2017 - 11:00am
That's right...it's Baby University!
Join us with author Chris Ferrie for simple science experiments and readings of his quirky, fun and informative series of board books as well as his new parody of Goodnight Moon...Goodnight Lab!
This event will take the place of our regular craft time and is great for the whole family!
Recommended for scientists of ALL AGES!

$9.99
ISBN: 9781492656227
Availability: On Our Shelves Now
Published: Sourcebooks Jabberwocky - May 2nd, 2017
---

$9.99
ISBN: 9781492656258
Availability: On Our Shelves Now
Published: Sourcebooks Jabberwocky - May 2nd, 2017
---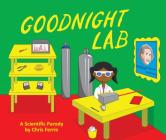 $17.99
ISBN: 9781492656173
Availability: Usually Ships in 1-5 Days
Published: Sourcebooks Jabberwocky - July 4th, 2017
---