Author Laura Lee presents Cat Eyes!
Sunday, November 11, 2018 - 11:00am
Join Author Laura Lee for a musical presentation of Cat Eyes! Coloring and snacks too!
*This event takes the place of our regularly scheduled storytime
About the Book
In a world filled with many wonderful things, Miki only sees cats. Until one seemingly unspectacular day, something special arrives. Miki's imagination leads her to seeing cats where ever she goes. The park, her classroom, even the dinner table. With the notion that her parents don't notice her obsession.
Cat Eyes is for every child who ever felt shy on the outside as an observer. Join Miki's journey and see how imagination can open doors to others. Oh, and if you like cats…
About the Author
"My name is Laura Lee and I am an author, illustrator, and designer. I grew up in the sleepy mountains of West Virginia where I spent many formative days in the great outdoors collecting rocks, climbing trees, and observing the miniature life of ants. As a child, I loved miniatures and models- their intricate details revealing stories through color, symbol, and texture. My curiosity for the built world eventually led to a career in design, where I've crafted many things from buildings to gallery exhibitions to digital products and services.
As a designer, I have a passion for storytelling and enjoy creating unique experiences through beautiful products and illustrated books. I live in Northern California with my husband David and son, Oliver."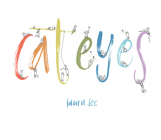 $17.99
ISBN: 9780999024942
Availability: On Our Shelves Now
Published: Ripple Grove Press - October 16th, 2018
---