Dr. Sebi Smoothie Detox Guide: 7-Natural Ingredients to Rapid Body Detox - 31-Day Smoothies Plan with Affordable & Delicious Recipes (Paperback)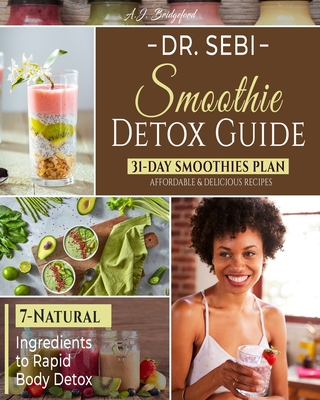 $9.70
Email or call for price.
Description
---
◆ THE UNTRADITIONAL DETOX GUIDE TO ELIMINATE TOXINS ◆
Would You Like a SMOOTHIE PLAN Consisting of Just 7 Ingredients to Save a Lot of Money?
If your answer is YES, then THIS GUIDE will open new doors for you.
A.J. Bridgeford spent his best years in close contact with Dr. Sebi spreading his knowledge with 7 practical volumes to improve people's health: this is BOOK No. 6 In The Series " Dr. Sebi Remedies ".
? - WHAT " Dr. Sebi Smoothie Detox Guide " IS ABOUT.
This book is the result of many studies undertaken by Dr. Sebi. It's a real 31-day program based on alkaline smoothie recipes to detoxify and control your body's acid level to prevent any type of disease. The goal? Clean your body and vital organs from toxins and other junk in 1 month. For a safe and optimally balanced liver and body, use this guide with its tips and try these detoxifying smoothies.
? - WHAT WILL YOU LEARN IN THIS VOLUME - of the series " Dr. Sebi Remedies ".
★ Introduction to Smoothie Detox Lifestyle
★ 10+1 Body Benefits of Smoothies
★ 7-Natural Ingredients Guide for a Complete Detoxification
★ 4 Weeks Smoothie Plan
★ 30+ Adorable Smoothies Recipes
★ Smoothie VS Juice: The End Game
★ And Much More...

-> Now it all depends on how strong your WHY is.
If you are looking for a positive result ... START NOW
Go to the Top of the Page and Buy " Dr. Sebi Smoothie Detox Guide " By A. J. Bridgeford.
"Your life is too precious not to take it seriously."