Preschool Math Workbook for Kids Ages 3 and up Homeschooling: Unique Blend of Activities to Learn Basics of Math and Get a Head Start in School Number (Paperback)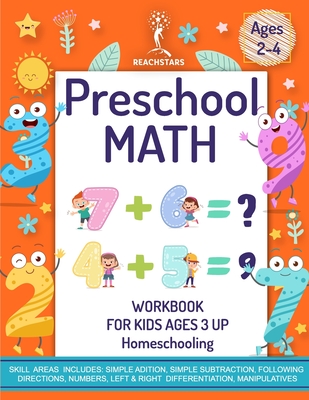 $6.97
Email or call for price.
Description
---
Do you want an educational and complete math workbook where your kid can learn quickly and develop skills like counting numbers, tracing numbers, simple subtraction, simple addition, left and right differentiation, connect the dots by numbers, and much more, in a fun way? Then Keep Reading
Numbers and counting are a crucial part of your child's growing mathematical understanding. These early math concepts build a foundation for more complex mathematical processes in the future. Working on simple math activities teaches children number order, help with counting and improve math skills. Little ones may need a little help, but as they get older, completing math activities is a great confidence booster in their math skills and get a head start in school.
Preschool Math Workbook for Kids Ages 3 and up Homeschooling is perfect for your children to learn the numbers and simple math in a fun and easy way.
With this unique blend of math activities for preschoolers, your children will improve numbers counting, improve self-confidence in a fun way, improve motor control skills and make the free time useful, instead of numbing themselves with Social Media.
Why this amazing math activity book is perfect for your child?
✓ Great math workbook for preschooler:
big pages with entertaining math activities
✓ High quality math book:
Original artist designs, high resolution
✓ Specially created for learning and have fun:
Incredibly Fun, this preschool math book will entertain your kid for hours.
✓ Developing motor coordination by coloring:
Each dinosaur can be colored once the dots are connected
✓ Big dot to dot book:
8.5'' x 11'' (21cm x 29.7cm) MEGA size book (A4)
✓ Premium paper:
High-quality 60lb, heavy stock paper
At Reachstars Publishing, we believe Kids should get back into natural learning environments where possible, and preschooler math activities are one of the BEST ways to not only entertain but educate children for hours on end
★ We will be very grateful if you leave a review ★
What are you waiting for? Scroll Up and Click Add To Cart