You Are Wonderful: A Coloring Book That Thinks You Are Pretty Darn Cool (Paperback)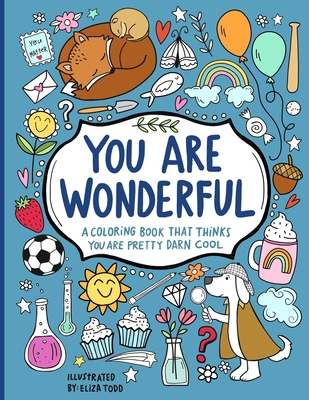 $7.45

In Our Warehouse - Expected arrival in 2-5 days
Description
---
You are Wonderful is an inspiring and uplifting coloring book that wants to remind each person how special they truly are The 18+ whimsical and heartwarming illustrations help children of all ages explore topics like kindness, bravery, creativity, strength and much more. This innovative coloring book is designed to build confidence while giving them an opportunity to express themselves creatively.

FEATURES AND HIGHLIGHTS:
Positive, Encouraging and Fun Filled with inspiring quotes and all kinds of fun images to encourage children to reflect on those most important and meaningful characteristics that are truly important in life.

Designed to Build Confidence through encouraging illustrations that offer an opportunity to reflect on all the ways we are unique and special. You Are Wonderful uses hundreds of adorable black and white line drawings to illustrate the many ways we all have something wonderful to bring to the world.

Based on Studies that show that engaging in a creative activity like coloring can help us to create an overall better sense of well-being

Whimisical, Heartwarming and Relatable Illustrations

This book is full of of hundreds of lighthearted engaging black and white illustrations that exemplify the many ways the reader is wonderful These illustrations are just waiting to be brought to life through your or your child's wonderful creativity

A Wonderful Gift for any Child (young or not so young)

If you are searching for a meaningful, fun and creative activity for your young child, kindergartner or school-aged child (or anyone who is just young at heart), our coloring book offers a fun way to connect. Buy a copy for a special loved one and one for you and work together When you are done with your creations you can cut them out and hang them on the wall.

Hundreds of Thoughtful, Lovingly Illustrated images
It is our hope that each person that works through this book will be encouraged to reflect on those specific things they love about themselves, their community and who they want to become. The uplifting designs help to connect these important topics in a fun light-hearted way. Inside you will find whimsical drawings including: flowers, birds, crowns, puppets, sports, soccer, fish, butterflies, rainbows, baseball, dogs, foxes, bears, sewing machine, trumpet, golf, chess, hockey, snowflakes, gems, cupcakes, pie, cooking, public speaking, elephants, bunny, camping, hiking, travel, mouse, cat, spaceship, gardening, telescope, violin, science, superhero cape, plants, microphone, art supplies, STEM, mountains, hiking, adventure and much, much more

Encourage a Stronger sense of Self and Well-Being
In a world full of distractions and comparisons, it is easy for all of us to forget the wonderfulness inside of us This inspiring and unique book has been thoughtfully and carefully designed to offer an opportunity to spend time thinking on the ways we are special and matter in this world This book is just dying to have you or your special one bring it to life with color and your own personal touch Designed to uplift the spirit while you are working on it and provide a sense of accomplishment once you are done, it is our hope that the beautiful things you discover about yourself while you are coloring stay with you long after you are done. All coloring pages are purposely left blank on the back so each page stands alone. The coloring book works great with colored pencils, crayons and markers.