Secret Scouts and The Lost Leonardo (Hardcover)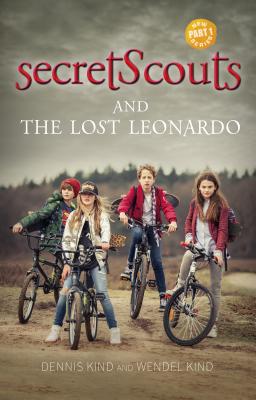 $16.99
Email or call for price.
Description
---
Secret Scouts is a new fact-fiction children's book series about historical fact, friendship, mystery and adventure!
STORY
When best friends Tom, Lisa, Sophie and Jack stumble upon a mysterious sketch that has all the hallmarks of an Old Master, they decide to investigate. Soon they discover an original 15th century codex full of Leonardo da Vinci's sketches, writings and calculations. 
From a family of modest means, Jack and Tom see the codex as a fast track to wealth and fame. Sophie and her sister Lisa, however, have other plans. They decode the codex and discover an incredible secret: Leonardo da Vinci's invention of time travel. 
Their discovery tests their friendship and presents them with an impossible choice: reveal their secret to the world—and become millionaires—or put da Vinci's extraordinary ideas to the test, risking their lives for a walk on the wild side.
Their journey brings them closer to the great Leonardo da Vinci than anyone ever before. But their quest comes with risks—including death, or worse, being lost in time.
About the Author
---
Dennis Kind and Wendel Kind
Dennis Kind and Wendel Kind form one of the few writing duos in children's literature. Writing from their home in Amsterdam which they share with their three young kids, they transform a fascination for art, culture and history into compelling literary stories. Feel-good stories that revolve around friendship, adventure and mystery, set in fascinating cities and time periods across the world.
Creator's Statement
Our goal is to create intriguing adventure stories based on strange but true facts. Exciting stories that fascinate, astonish, provoke, pique curiosity, but most of all stories that kids can effortlessly learn from and lose themselves in. In our stories, young readers bear witness to key moments in history. By looking over the shoulders of our protagonists, they experience history as it is being made.
Praise For…
---
"A page-turner!" — Jan de Bont, Movie director, (Speed - Lara Croft Tomb Raider - Minority Report)

"The season's coolest children's book." — ELLE

"A Dan Brown for children. Secret Scouts is the kind of gripping adventure every teenager would love to experience." — Elsevier