Los hombres que no fui / The Men I Was Never Able to Become (Paperback)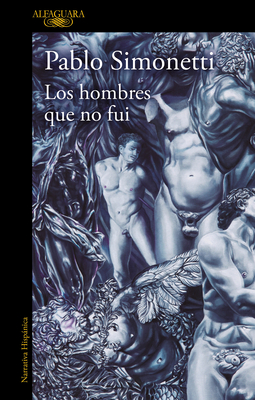 $18.95
Email or call for price.
Description
---
La última novela de Pablo Simonetti, un autor que «conquista multitudes» (El Mercurio). El enfrentamiento de un hombre con su historia, su clase y su sexualidad.

«Las escenas queman porque están llenas de verdad, tristeza, dolor». —Alberto Fuguet

«Simonetti cultiva las palabras con maestría: allí donde había silencio y aridez brotan las flores más conmovedoras». —Jaime Bayly

«En ese sofá quedó tendido, desconcertado y exánime uno de los hombres que no fui».

A través de una serie de encuentros con personas que fueron parte de su pasado, el narrador de Los hombres que no fui se enfrenta a su memoria, a sus decisiones y a las derivas que ha ido tomando su vida, dando paso al retrato de «un mundo de formas bellas, tiránicas e infructuosas, de reglas inculcadas que podían llegar a ser mortales». Con una mirada esclarecedora, conjugando melancolía y liberación, Pablo Simonetti escribe sobre las vidas posibles que vamos abandonando con cada una de nuestras decisiones, sobre la pertenencia y la exclusión, con el trasfondo de un Santiago de Chile en llamas que le permitirá al protagonista dejar el pasado definitivamente atrás.

ENGLISH DESCRIPTION

The latest novel by Pablo Simonetti, an author who "charms the masses" (El Mercurio Newspaper). This is the story of a man who comes face to face with his history, his social class, and his sexuality.
 
"On that sofa, one of the men I was never able to become, was left bare, unsettled, and lifeless."
 
Through a series of encounters with people who were part of his past, the narrator in The Men I Was Never Able to Become confronts his memory, his past decisions, and the paths his life has taken, giving way to a portrait of indoctrinated rules that could become deadly. With an enlightening look, combining melancholy and liberation, Pablo Simonetti writes about the possible lives that we abandoned with each one of our life decisions; about belonging and exclusion; set against the background of a burning Santiago de Chile that will allow the protagonist to leave the past behind where it belongs.
 
"The scenes sting because they are full of truth, sadness, and pain." —Alberto Fuguet
 
"Simonetti gathers words masterfully: where there was silence and drought, the most moving flowers now sprout." —Jaime Bayly
About the Author
---
Pablo Simonetti nació en Santiago de Chile, se tituló de ingeniero civil en la Universidad Católica y obtuvo un máster en Ingeniería Económica por la Universidad de Stanford. A partir de 1996 se volcó por completo en la literatura. Al año siguiente ganó el Concurso nacional de Cuentos Paula con el más afamado de sus relatos, «Santa Lucía». Este y otros cuentos se reunieron en Vidas vulnerables (1999), merecedor de la Mención Especial del Premio Municipal de Santiago. En 2004 publicó Madre que estás en los cielos, que ha sido traducida a varios idiomas y es una de las tres novelas más vendidas en Chile de los últimos quince años. En 2007 presentó su novela más popular, La razón de los amantes. Sus últimas obras son La barrera del pudor (2009), La soberbia juventud (Alfaguara, 2013), jardín (Alfaguara, 2014) y Desastres naturales (Alfaguara, 2017), que se han publicado en Latinoamérica y España con una entusiasta recepción por parte de la crítica y los lectores.
Praise For…
---
La crítica ha dicho...

«Uno de los escritores más leídos del país. [...] Recurre a la memoria y la biografía: recompone episodios de su infancia y juventud —algunos luminosos, otros poco felices— y los pasa por el filtro de la ficción». —Andrés Gómez Bravo, La Tercera (Chile)

«La primera vez que leí un cuento suyo lo hice por curiosidad y no pude dejarlo hasta el final. El suspenso te engancha desde el principio en sus relatos. Hace tiempo que no leía cuentos tan bien narrados por un escritor chileno». —Roberto Bolaño

«Simonetti traspasa la barrera del pudor y lo que comparte, reprocesa y describe son momentos doblemente íntimos por la cantidad de deseo y de dolor que fusionan. Las escenas queman porque están llenas de verdad, tristeza, dolor». —Alberto Fuguet (sobre Desastres naturales)

«Un libro inteligente, transparente y emocionante. A través del recuento de una mujer que va a morir de cáncer, con gracia y sensibilidad se hace un retrato de la familia chilena, sus tabúes y liberaciones». —Antonio Skármeta (sobre Madre que estás en los cielos)

«Simonetti muestra el dilema de quien debe elegir entre el amor a una madre y el amor a uno mismo. Y ese dilema sólo tiene una solución: el dolor. Una novela en estado de gracia. Una novela que sacude y que conmueve». —Luisgé Martín (sobre Madre que estás en los cielos)

«Simonetti resuelve con altura estilística un tema muy trabajado en la literatura universal. Con delicadeza y con una crudeza sexual perfectamente medida». —Ernesto Ayala-Dip, Babelia (sobre La barrera del pudor)