Farmer Falgu Goes on a Trip (Hardcover)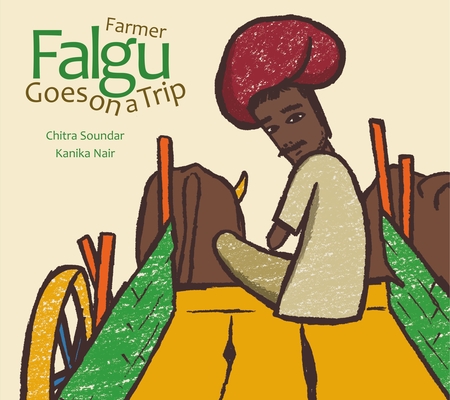 Description
---
When the mooing, clucking, and quacking on his farm become too much for him to handle, Farmer Falgu decides to set out on a journey to find some silence. One by one, he is joined by a new crew of noisemakers culminating in a cumulative cacophony. When he finally finds the silence that he has been craving for, he realizes that it was not all that he had imagined it to be.
Farmer Falgu Goes on a Trip was shortlisted for the prestigious Goodbooks-The Hindu Award 2016 and the rights of the book have been sold to Japan, Germany, and France. The story is set in Rajasthan, a state in northern India that is rich in historical significance and holds a special place in the hearts of the Indian diaspora. This is just the first of many adventures planned for Farmer Falgu.
Chitra Soundar's onomatopoeic language makes Farmer Falgu Goes on a Trip an especially fun-filled read-aloud. Soundar was born in Chennai, India, and lived for a time in Singapore before settling down in London, United Kingdom.
Kanika Nair's gentle illustrations portray the rural setting and the wide-ranging characters with understanding and humor. She resides in Franklin, Tennessee.
About the Author
---
Chitra Soundar was born in Chennai, India, resides in London, United Kingdom, and lives in imaginary worlds weaved out of stories. She has written over 20 books for children aged 3 to 10 years old. Chitra also loves to retell folktales, legends and ancient tales from the Indian sub-continent. While she dabbles in chapter books, her first love is picture books. Farmer Falgu Goes on a Trip is her third book in India, and her first book with Karadi Tales. Soon Farmer Falgu will be going places with his charm and good humour. Her work is inspired by the noisy and colourful India, the culture and history of ancient tribes and the stories that pass down from one generation to the next. Many of her stories revolve around animals, families and cultural motifs. She is often inspired by visits to the many museums in London and walking around the ancient streets reading blue plaques. More details can be found at www.chitrasoundar.com Kanika Nair was born in Jaipur, India. She has always had a passion for illustration. After receiving a bachelor's degree in Communication Design from Pearl Academy of Fashion, New Delhi, she began working as a freelance illustrator, writer and designer of children's books. Nair has worked on children's books projects with Karadi Tales, Room to Read, Bharat Gyan Vigyan Samiti (BGVS) and Pratham Books. She loves to incorporate various insights about children that she has collected over years into her illustrations. The Indian cultural canvas has always fascinated her and this is quite evident in her style of illustration.