Vehicles Coloring Book: Awesome Coloring Pages with Cool Planes, Ships, Cars, Locomotives, Trucks and More Things That Go or Fly! No Ink Bleed (Hardcover)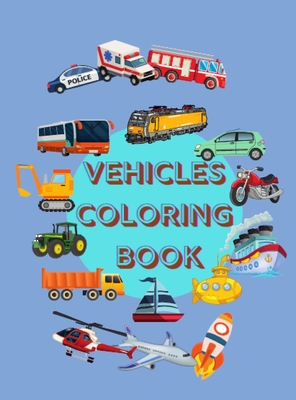 $20.99
Email or call for price.
Description
---
Stimulate Your Little Boy's Creativity, his attention to details and help him build fine-motor skills and hand-eye coordination Our Coloring Book is perfect for your boy to keep him busy for hours.
With a wide variety of vehicles, this fascinating book makes the perfect gift or treat for a boy who loves coloring. From super cars and space ships, to trucks and motorbikes, right through to racing cars, fire trucks, fighter jets, cruise ships and even a submarine, this book definitely contains a rich variety of awesome coloring pictures, which are sure to delight and thrill any boy interested in cars, vehicles and transport.
★100+ Images with Cool Vehicles that Go, Float or Fly - the Ideal Coloring Book for Boys and even Girls★
❤WHY YOUR KID WILL ENJOY THIS COLORING BOOK❤
✓ Easy to color designs and beautiful illustrations that are created for kids and encourage creativity
✓ Perfect for gel, pen, ink, marker, fine liners, water colors or pencils
✓ Large format 8.5 x 11 inches dimensions, suitable size for school and home
✓ Single-sided pages to minimize bleeding through the page and perfect to cut out. Your kids can try to draw the picture by themselves.
✓ Designs range from simple to more complex, for every skill level
✓ Coloring pictures to help your child dive into the cool world of the freight or passengers transportation vehicles
✓ Great for preschool and school aged children
✓ Glossy cover
✓Great variety (cars, motorcycles, cruise ships, yachts, sailing boats, submarines, ambulance and police cars, fire trucks, buses, trams, metros, locomotives, tractors, heavy machineries and construction vehicles like diggers, dumpers, cranes, trucks, excavators, freight transportation, planes, helicopters and rockets)
This coloring book is the best occasion for you to spend quality time with your son or just watch him enjoy it by himself.
Each drawing is designed to make boys focus and catch their attention for a long time. In this way the kids develop their attention, drawing skills and patience.
The Vehicles Coloring Book is the best alternative for replacing the tablet or phone with a useful activity that is actually developing and helping your kid grow into his full potential.
If you are looking for a seriously fun, marvelously modern and totally cool, cars and vehicles coloring book, then Vehicles Coloring Book is the right book for you

Do not hesitate and click "
BUY NOW
" Your child will enjoy coloring the amazing world inside the book.