Inquieta compañía / Disturbing Company (Paperback)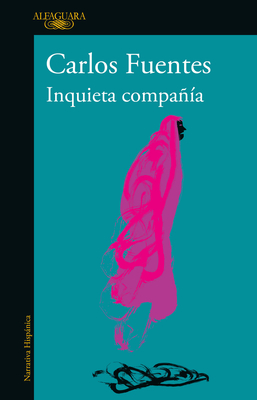 $18.95

In Our Warehouse - Expected arrival in 2-5 days
Description
---
En Inquieta compañía, Carlos Fuentes crea una atmósfera de suspenso que nos llevará por una senda llena de demonios, ángeles y fantasmas que no se alejan tanto de lo real.

Respetando los elementos de la literatura de terror, Carlos Fuentes muestra a través de seis cuentos cautivadores la mezcla que se produce entre esta escritura llena de elementos sobrenaturales, con situaciones que sutilmente se dejan vislumbrar, y que tienen que ver con nuestro mundo actual.

Fantasmas, brujas, ángeles, vampiros. A pesar de todas las apariencias de modernidad, los seres que acostumbramos llamar imaginarios no mueren por completo, como si nuestros temores más grandes y nuestros más ardorosos deseos sólo entrasen en receso, guardados en un sótano junto a cachivaches inservibles, hasta que un accidente, una casualidad o fuerzas oscuras los convocan.

¿Es vida este breve paso, esta premura entre la cuna y la tumba? Carlos Fuentes narra en este volumen seis historias en las que esa pregunta recibe respuestas insospechadas ante los infinitos recursos de la muerte.

ENGLISH DESCRIPTION

In Disturbing Company, Carlos Fuentes creates a suspenseful atmosphere to take us on a path full of demons, angels, and ghosts, not that far from reality.

In six captivating stories, abiding by the elements of horror literature, Carlos Fuentes blends his narrative, filled with the supernatural, with subtle glimpses of situations relevant to our world today.
 
Ghosts, witches, angels, vampires... In spite of all the trappings of modernity, beings we tend to call imaginary never quite die, as if our greatest fears and most fervent desires only paused, kept in a basement next to useless junk, until an accident or chance or dark forces summons them.
 
Is life this brief step, this haste between cradle and grave? In each of the six stories collected in this volume, Carlos Fuentes gives unexpected answers to this question before the infinite resources of death.
About the Author
---
Carlos Fuentes (1928-2012) ha sido uno de los principales exponentes de la narrativa mexicana. Su obra incluye novelas, cuentos, teatros y ensayos entre los que destacan La muerte de Artemio Cruz (1962); Cambio de piel (1967); o la extensa Terra nostra (1975). A lo largo de su vida recibió numerosos premios, entre los que destacan el Premio Biblioteca Breve en 1967; el Premio Cervantes en 1987; el Premio Príncipe de Asturias en 1994; el Premio Picasso, otorgado por la UNESCO en 1994; la Legión de Honor del Gobierno francés en 2003; el Premio Real Academia Española 2004; el Premio Internacional Don Quijote de la Mancha en 2008; el González-Ruano de Periodismo en 2009 y el Premio Fundación Gabarrón en 2011. En la última década publicó Todas las familias felices (2006), La voluntad y la fortuna (2008), Adán en Edén (2009), La gran novela latinoamericana (2011), Carolina Grau (2011) y Personas (2012). Era catedrático en las universidades de Harvard y Cambridge (Inglaterra) y poseía una larga lista de doctorados honoris causa por varias universidades como Harvard, Cambridge, Essex, Miami y Chicago, entre otras.
Praise For…
---
La crítica ha opinado:

"Inquieta compañía es un volumen para no dormir, para respirar el aire fresco de la oscuridad y ser testigos de sus imágenes hipnagógicas (...) No sé si Carlos Fuentes ha roto su propio canon o si ha inaugurado un nuevo canon literario. Lo cierto es que este libro nos devuelve a lecturas lejanas del mismo autor, perdidas en algunos de sus libros, en algunas páginas, sobre todo en Aura, Cantar de ciegos, Cambio de piel, Agua quemada o El naranjo, obras que apuntaban hacia ciertas obsesiones de su autor, compiladas bajo el rubro de 'El mal del tiempo'" -Mauricio Molina, Revista de la Universidad de México-

"Carlos Fuentes ha logrado, sirviéndose de materiales tópicos populares, construir relatos que trascienden la anécdota. No es casual que estas historias de misterio, de horror y muerte se hayan convertido en mitos universales. Fuentes los ha mexicanizado. Ha descrito de manera ejemplar y sobria paisajes de su patria y se ha servido de mecanismos elementales para convertirlos en historias cotidianas y confeccionar una literatura brillante y divertida, irracional, de amplio espectro, de gran nivel, como no podía ser menos." -Joaquín Marco, El Cultural-