Gringo viejo / Old Gringo (Paperback)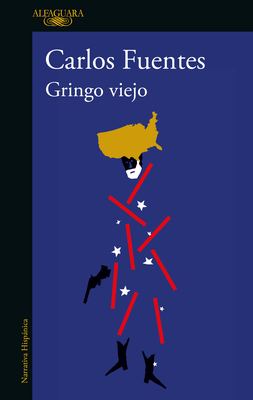 $18.95

In Our Warehouse - Expected arrival in 2-5 days
Description
---
Situada en un momento histórico fascinante, Gringo viejo aborda temas como la muerte, el intercambio cultural y, sobre todo, la identidad mexicana.

Un fulgurante bestseller mexicano en Estados Unidos, Gringo viejo (1985) es una de las novelas más famosas de Carlos Fuentes, figura central de la narrativa y la ensayística mexicana.

En Gringo viejo, Carlos Fuentes plasma los turbulentos años de la lucha revolucionaria en México, cuando un viejo escritor norteamericano escéptico, insalvablemente amargo, que no se resigna a esperar la muerte por enfermedad o por accidente, decide cruzar la frontera de su país en busca de una muerte digna.

En 1913, el escritor norteamericano Ambrose Bierce se despidió de sus amigos con una carta en la que se declaraba viejo y cansado. Quería morir y elegir cómo. La enfermedad y el accidente le parecían indignos; en cambio, ser ajusticiado ante un paredón mexicano...

En el mes de noviembre cruzó la frontera hacia México, que estaba en plena revolución, y no se volvió a saber de él. La Enciclopedia Británica aventura que pudo ser asesinado en el sitio de Ojinaga (enero de 1914), pues un documento de la época consigna la muerte en esta batalla de un "gringo viejo".

ENGLISH DESCRIPTION

One of Carlos Fuentes's greatest works.

The Old Gringo tells the story of Ambrose Bierce, the American writer, soldier, and journalist, and of his last mysterious days in Mexico living among Pancho Villa's soldiers, particularly his encounter with General Tomas Arroyo. In the end, the incompatibility of the two countries (or, paradoxically, their intimacy) claims both men, in a novel that is, most of all, about the tragic history of two cultures in conflict.
About the Author
---
Carlos Fuentes (1928-2012). Connotado intelectual y uno de los principales exponentes de la narrativa mexicana, tiene una vasta obra que incluye novela, cuento, teatro y ensayo. Recibió numerosos premios, entre ellos los siguientes: Premio Biblioteca Breve 1967 por Cambio de piel; Premio Xavier Villaurrutia y Premio Rómulo Gallegos por Terra nostra; Premio Internacional Alfonso Reyes 1979; Premio Nacional de Ciencias y Artes en Lingüística y Literatura 1984; Premio Cervantes 1987; Orden de la Independencia Cultural Rubén Darío, otorgada por el Gobierno Sandinista, 1988; Premio del Instituto Italo-Americano 1989 por Gringo viejo; Medalla Rectoral de la Universidad de Chile, 1991; Condecoración con la Orden al Mérito de Chile, en grado de Comendador, 1993; Premio Príncipe de Asturias 1994; Premio Internacional Grinzane Cavour 1994; Premio Picasso, otorgado por la UNESCO, 1994; Premio Cervantes, 1987; Premio de la Latinidad otorgado por las Academias Brasileña y Francesa de la Lengua, 2000; Legión de Honor del Gobierno Francés, 2003; Premio Roger Caillois 2003; Premio Real Academia Española 2004 por En esto creo; Premio Galileo 2000, Italia, 2005; Gran Cruz de la Orden de Isabel la Católica, 2008; Premio Internacional Don Quijote de la Mancha 2008; Gran Medalla de Verneil 2010; y Premio Formento de las Letras, 2011.
Praise For…
---
Otros autores han opinado:

"Los lectores recurren a Fuentes-autor no sólo para informarse, sino para verse retratados y, en ese reflejo, encontrarse a sí mismos" -Elena Poniatowska-