Retorno 201 / Retorno 201 Street (Paperback)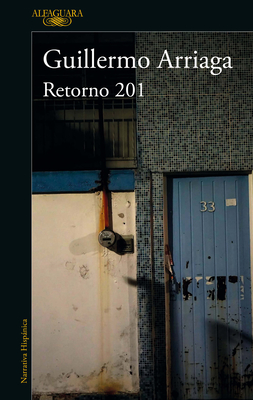 $16.95

In Our Warehouse - Expected arrival in 2-5 days
Description
---
«Me siento muy, pero muy afortunado de haber crecido en la colonia Unidad Modelo, en particular, en el Retorno 201. En mi barrio pasaban cosas y cada una de ellas me brindó historias para narrar.» Guillermo Arriaga

En el Retorno 201 de la Ciudad de México, el autor pasó su infancia, adolescencia y parte de su juventud. Ahí su narrativa se topó con historias que hienden como cuchillos, en donde afloran la violencia y el amor, la ternura y la brutalidad, la paz y la furia.

Con agudo instinto callejero, Arriaga presenta personajes llenos de intensidad y de contradicciones, al límite del caos y enfrentados a complejos dilemas morales. En sus historias, desnuda el alma humana, como en la escalofriante "Lilly", que relata lo que unos chicos le hacen a su prima con retraso mental; en "La viuda Díaz", conmovedora historia de amor de una joven que cuida a su marido enfermo, varios años mayor que ella; "El invicto", donde se revelan los crueles códigos de barrio; o "Trilogía", que retrata la violencia de tres judiciales sobre un inocente que cometió el error de pasar frente a ellos.

Retorno 201 es el primer libro del ganador del Premio Alfaguara, con cuentos escritos en su mayoría entre 1983 y 1988 (además de "Tarde", que escribió para esta edición, y "Trilogía", relato que creía perdido y recién recuperó), que muestra a sus nuevos lectores al escritor fiero, indómito y poderoso que ha sido Arriaga por décadas.

ENGLISH DESCRIPTION

Longlisted for the National Book Award for Translated Literature

These eleven stories from one of Granta's "Best Young Spanish-Language Novelists" combine gritty surrealism with explosive interior meditations, traversing the fickle, often terrifying terrain between madness and freedom. In the title story, a so-called "non-inventor" brings snow-white rabbits to an island inhabited exclusively by birds, with horrific results. In "Myotragus" a privileged man's understanding of the world is violently disrupted by the sight of a creature long thought extinct. Elsewhere in these stories that map dingy hotel rooms, shape-shifting cities, and graveyards, an unsightly "paw" grows from a writer's earlobe and a grandmother floats silently in the corner of the room.
About the Author
---
Soy chilango. Nacido en el 58. Piscis, del 13 de marzo. Soy hijo de Carlos y Amelia; esposo de Maru; padre de Santiago y de Mariana; hermano de Patricia, Carlos y Jorge; tío de Alan y hermano de esos otros hermanos que son los amigos. No fumo ni bebo. Soy abstemio desde niño. Detesto a los que dicen: "Desconfío de los que no beben alcohol". Detesto también a la gente pusilánime. Admiro a los intensos, a los que van con todo, a los que no se detienen: a los hombres y mujeres que dejan pedazos de piel por donde caminan. Carezco de olfato y me quedé calvo. De chavo era muy malo para la madriza (por eso precisamente no tengo olfato), pero luego me compuse y aprendí a meter las manos. Intenté ser boxeador de peso semicompleto. No lo logré. También quise ser futbolista profesional. Tampoco. Quise ser un buen basquetbolista, pero me ganó la desidia y terminé como jugador de cascaritas de apuesta. Crecí en la colonia Unidad Modelo, Delegación Ixtapalapa, en el Distrito Federal. Mido 1.88 y peso 90 kilos. Soy cazador. Como dice Miguel Delibes: "un cazador que escribe". Creo que la cacería es uno de los últimos y más profundos ritos a los cuales puede acceder un ser humano. La literatura también es uno de nuestros últimos ritos. Contando historias los seres humanos podemos festejar los hondos dolores de la vida. Por eso se siguen escribiendo novelas y cuentos y guiones. Por eso escribo yo. Soy autor de tres novelas: Escuadrón Guillotina (1991), Un dulce olor a muerte (1994) y El búfalo de la noche (1999) y un libro de cuentos, Retorno 201 (2003). Mi obra está traducida a nueve idiomas: inglés, alemán, griego, checo, hebreo, holandés, portugués, italiano y francés. Soy autor también de los guiones Amores perros (2000), 21 Gramos (2004) y Babel, dirigidas por Alejandro González Iñárritu, y Los tres entierros de Melquíades Estrada, dirigida por Tommy Lee Jones. Por este guión gané la Palma de Oro al mejor guión en el Festival Internacional de Cine de Cannes. --This text refers to an out of print or unavailable edition of this title.