México acribillado / Riddled Mexico (Paperback)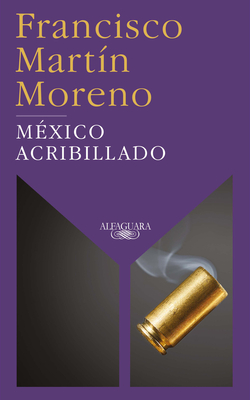 $21.95
Email or call for price.
Description
---
«Mientras más matas, más gobiernas.» —Álvaro Obregón

La versión oficial dice que, siendo presidente electo, Álvaro Obregón fue asesinado a tiros por José de León Toral, pero la autopsia encontró en el cuerpo 13 orificios de entrada y seis de salida de balas de distintos calibres, y concluyó que, o el tirador usó varias pistolas, o hubo seis tiradores. Para colmo, los posibles testigos de los hechos fueron muriendo, también asesinados o en circunstancias extrañas, pocos meses después de aquel terrible 17 de julio de 1928.

La lista de sospechosos de tanta desgracia y vergüenza nacional incluye al presidente Plutarco Elías Calles, al fundador de la CROM, Luis N. Morones, a la renombrada madre Conchita, y a una serie de oscuros personajes encumbrados del clero de México, quienes organizaron un boicot comercial a nivel nacional para poner de rodillas al gobierno y cerraron los templos para privar de consuelo espiritual a la feligresía y enardecerla.

Estos datos fueron ocultados cuidadosamente durante 80 años y salieron a la luz gracias a esta gran novela histórica y reveladora, respaldada por una investigación minuciosa y plena de acción e intriga… La trama incluye un verdadero rosario de asesinatos históricos, entre ellos, los de Madero, Carranza, Serrano, Villa y otros tantos más.

ENGLISH DESCRIPTION

"'The more you kill, the more you rule." -Alvaro Obregon

The official version says that, being president-elect, Álvaro Obregón was shot dead by José de León Toral, but the autopsy found 13 entry holes and six exit holes in his body for bullets of different calibers, and concluded that, either the shooter used multiple pistols, or there were six shooters. To make matters worse, the possible witnesses of the event were being killed, also assassinated or under suspicious circumstances, a few months after that terrible day of July 17, 1928.

The list of suspects of such national disgrace and shame includes President Plutarco Elías Calles, the founder of CROM, Luis N. Morones, the renowned Mother Conchita, and a series of obscure figures from Mexico's clergy, who organized a  nationwide boycott to bring the government to its knees and closed temples to deprive the congregation of spiritual comfort and inflame them.

These facts were carefully hidden for 80 years and came to light thanks to this great, revealing historical novel, backed by meticulous research and full of action and intrigue... The plot includes a veritable string of historical murders, among them, those of Madero, Carranza, Serrano, Villa and many others.