Robot Coloring Book For Kids Ages 4-8: Coloring Book For Toddlers and Preschoolers: Simple Robots Coloring Book for Kids Ages 2-6, Discover These Page (Hardcover)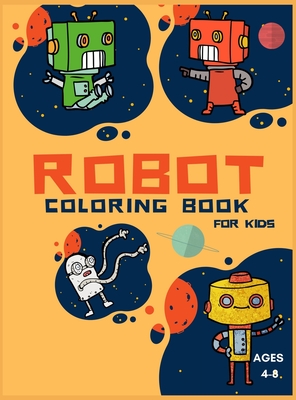 $14.39
Email or call for price.
Description
---
★ Robot Coloring Book For Kids ★
Welcome to the City of Robots - The place where awesome robots live their daily life by doing awesome robot things. Have your little artist make these cute robots come to life with crayons, markers, colored pencils, or pens. If you're looking for a birthday gift or a Christmas gift for your boy or girl who loves robots, this robot coloring book makes a perfect gift.
Does your little one loves robots? They will love our robot themed coloring books
This coloring book for kids will provide hours of fun
Just click the cover (or look at the back cover) to reveal what's inside
Why You Will Love this Book:
✓ Meditative Relaxing Coloring Pages: Every page you color will provide hours of fun, calm, relaxation, and stress relief through creative expression.
✓ Mind-Blowing Stress Relieving Designs: Each coloring page is designed to provide relaxation as you channelize your energies for creative expression.
✓ Magnificent Illustrations: Well-crafted cute illustrations that help you to create your own masterpieces. We've included hand-drawn unique images for you to express your creativity.
✓ Crayons: Suitable for markers, gel pens, colored pencils, fine-liners, and watercolors
✓ Single-Sided Coloring Pages: Every illustration is printed on a single-sided page that helps you to use a broad variety of coloring choices without fearing bleed through.
✓ Perfect for All Skill Levels: This book offers a broad variety of coloring pages suited for all skill levels - ranging from beginner to expert level.
✓ Cool & Unique Gifts: Coloring books make a wonderful gift. We have a wide range of coloring books that are frequently one of the most gifted items.
For anyone who loves Robots, this book is the BEST gift.This is a fun and educational activity book for kids to use during the summer or school year This children's coloring book is For anyone who loves Robots, this book makes a nice gift for ages 4 to 8 years.Activities such as coloring will improve your child's pencil grip, as well as helping them to relax, self regulate their mood, and develop their imagination.
Health Benefits of Coloring:
- It relaxes the brain
- Relieve stress and anxiety
- Boost your creativity
- Improve concentration
- Boost mindfulness
- Improve sleep
- Improve focus
Discover this Robot coloring book. Kids can enjoy using this book at home or at school. This book provides plentiful coloring pages so kids can never get bored while doing this constructive activity. Coloring can help build good motor patterns and skills which kids can benefit from. With a wide unique variety of robot coloring pages, kids will have endless fun.