Best Mountain Bike Trails in Ontario: 55 MTB Locations (Paperback)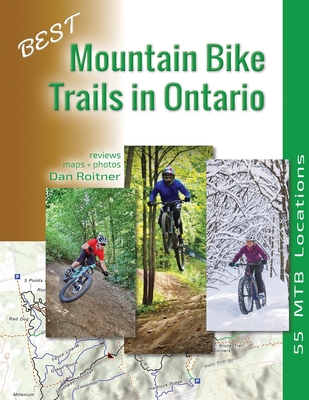 $26.99
Email or call for price.
Description
---
Start planning your next great MTB adventure today
Finally, a mountain bike trail guide to help you locate Ontario's elusive sweet singletrack.
This quick, informative read will get you out riding new trail by next weekend.
Features:
Top 55 MTB locations in Ontario
145 pages, large format, full colour
Advice for everyone from beginners to expert riders
Detailed reviews, topo trail maps and plenty of photos
Consistent review ratings, from one source-the author
Trail Reviews List - Each review gives all the info you need: length, elevation, terrain, skill level, traffic, maps, facilities, highlights, trail fees, phone #, website, similar trails, local clubs, and trailhead access address + GPS coordinates
Extra Content Includes - What Is Mountain Biking & Would I Like It?, Beginner Trails, MTB Groups & Clubs, Ontario Geography, GPS Accuracy, Map Making, Trail Building Concepts, Trail Hazards, Bike Health, Theft & Etiquette, Bike Repair, and many tips on Getting Ready for a Ride, as well as My Top 5 Lists and a Glossary/Lingo page
Bonus PDF eBook version included for download
Discover the many diverse MTB destinations in Ontario, Canada, where you can let loose on your bike. Recommendations range from beginner trails ideal for riders just trying out the sport to the toughest double-black runs that challenge even the experts.
After many years of riding these trails, Dan Roitner has written the MTB trail guide he always wished for. He combined his trail reviews, photos and mapping data into this comprehensive and entertaining guidebook.
Written with insight and humour-and crammed with info-this book will lead you to the best MTB trails Ontario has to offer. There's a lot more riding in this province than you thought possible