Charlotte's Web (CD-Audio)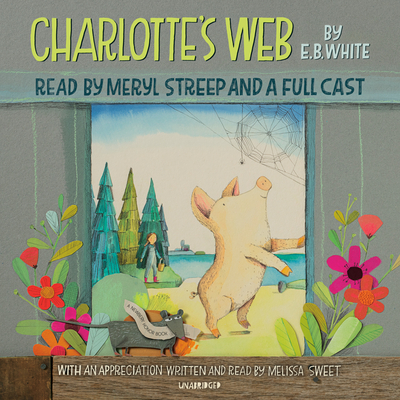 $27.00
Email or call for price.
Description
---
Brought to life by Meryl Streep and a full cast, this beloved book by E. B. White, author of Stuart Little and The Trumpet of the Swan, is a classic of children's literature that is "just about perfect."*

Some Pig. Humble. Radiant. These are the words in Charlotte's Web, high up in Zuckerman's barn. Charlotte's spider web tells of her feelings for a little pig named Wilbur, who simply wants a friend. They also express the love of a girl named Fern, who saved Wilbur's life when he was born the runt of his litter.

E. B. White's Newbery Honor Book is a tender novel of friendship, love, life, and death that will continue to be enjoyed by generations to come.

Includes an appreciation written and read by Caldecott Honor winner Melissa Sweet, the cover artist of this edition and author/illustrator of Some Writer!: The Story of E. B. White.

Narrated by Meryl Streep
featuring:
January LaVoy as CHARLOTTE
Kirby Heyborne as WILBUR
MacLeod Andrews as TEMPLETON

with additional performances by:
Mark Bramhall as LURVY
Scott Brick as THE MINISTER
Cassandra Campbell as EDITH ZUCKERMAN
Danny Campbell as HOMER ZUCKERMAN
Mark Deakins as MR. ARABLE
Kimberly Farr as MRS. ARABLE
Tavia Gilbert as THE GOOSE
Dion Graham as THE GANDER
Almarie Guerra as NELLIE
Johnny Heller as THE FAIR ANNOUNCER
Lincoln Hoppe as AVERY
Raymond Lee as THE BABY SPIDER
Robin Miles as THE OLD SHEEP
Adenrele Ojo as ARANEA
Ray Porter as UNCLE THE PIG
Emily Rankin as FERN
John Rubinstein as DR. DORIAN
Bahni Turpin as THE LAMB
Julia Whelan as JOY

*New York Times
About the Author
---
E. B. White, the author of such beloved classics as Charlotte's Web, Stuart Little, and The Trumpet of the Swan, was born in Mount Vernon, New York. He graduated from Cornell University in 1921 and, five or six years later, joined the staff of The New Yorker magazine, then in its infancy. He died on October 1, 1985, and was survived by his son and three grandchildren.

Mr. White's essays have appeared in Harper's magazine, and some of his other books are: One Man's Meat, The Second Tree from the Corner, Letters of E. B. White, Essays of E. B. White, and Poems and Sketches of E. B. White. He won countless awards, including the 1971 National Medal for Literature and the Laura Ingalls Wilder Award, which commended him for making a "substantial and lasting contribution to literature for children."

During his lifetime, many young readers asked Mr. White if his stories were true. In a letter written to be sent to his fans, he answered, "No, they are imaginary tales . . . But real life is only one kind of life--there is also the life of the imagination."