Where the Dead Wait: A Novel (Hardcover)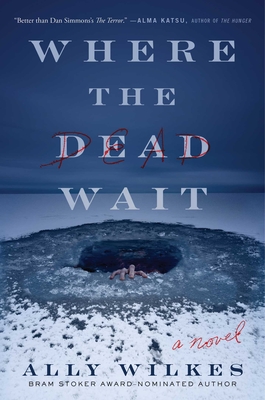 $28.99

In Our Warehouse - Expected arrival in 2-5 days
Description
---
An eerie, atmospheric Polar Gothic following a Victorian explorer in search of his lost shipmate and his own redemption—from the author of the "vivid, immersive" (The Guardian) horror novel All the White Spaces.

William Day should be an acclaimed Arctic explorer. But after a failed expedition, in which his remaining men only survived by eating their dead comrades, he returned in disgrace.

Thirteen years later, his second-in-command, Jesse Stevens, has gone missing in the same frozen waters. Perhaps this is Day's chance to restore his tarnished reputation by bringing Stevens­­—the man who's haunted his whole life—back home. But when the rescue mission becomes an uncanny journey into his past, Day must face up to the things he's done.

Abandonment. Betrayal. Cannibalism.

Aboard ship, Day must also contend with unwanted passengers: a reporter obsessively digging up the truth about the first expedition, as well as Stevens's wife, a spirit-medium whose séances both fascinate and frighten. Following a trail of cryptic messages, gaunt bodies, and old bones, their search becomes more and more unnerving, as it becomes clear that the restless dead are never far behind. Something is coming through.
About the Author
---
Ally Wilkes, the Bram Stoker Award–nominated author of All the White Spaces, grew up in a succession of isolated—possibly haunted—country houses and boarding schools. After studying law at Oxford, she went on to spend eleven years as a criminal barrister. Ally now lives in Greenwich, London, with an anatomical human skeleton and far too many books about Polar exploration. You can follow Ally on Twitter @UnheimlichManvr.
Praise For…
---
"Beautiful, brilliant writing about good men (and bad) facing the unimaginable. I was swallowed whole by Ally Wilkes' terrifying story of Arctic survival. Dare I say it's better than Dan Simmons' THE TERROR?"
— Alma Katsu, author of THE FERVOR and THE HUNGER

"Spectacular . . . a breathtaking achievement."
— Publishers Weekly (starred review)

"Ally Wilkes weaves polar adventure and gothic horror together with wonderfully chilling results. The pages are full of creeping dread and malevolence that will linger with you long after you close the book."
— Christopher Golden, New York Times bestselling author of ROAD OF BONES and ALL HALLOWS

"An ice-cold brew of cannibalism and ghoulish horror served up by an author with a visceral feel for the extremes of polar exploration. Powerful stuff indeed!"
— Michelle Paver, critically-acclaimed author of DARK MATTER

"Harrowing and clawing with the iciest fingernails. The only thing harder to escape than the bloodthirsty sea is the longing and regret. WHERE THE DEAD WAIT proves that the frozen nightmare is the domain of Ally Wilkes; we're just left to survive it."
— Hailey Piper, Bram Stoker Award-winning author of QUEEN OF TEETH

"Chillingly, thrillingly existential, packed with heartache and dread. WHERE THE DEAD WAIT is a Conradian trek into an Arctic heart of darkness, where the past is (literally) present, and the present marches us inch by inch towards our shared, unspeakable fate."
— Nat Cassidy, author of MARY: AN AWAKENING OF TERROR and NESTLINGS

"WHERE THE DEAD WAIT is a full-body plunge into nineteenth-century seafaring, Arctic survival, and the frigid darkness of the human psyche, in a setting as frostbitten and dread-inducing as the ghosts that haunt it. I was moved by Captain Day's inner war of longing and regret, and rewarded by the beautiful, immersive prose. With her second polar outing, Wilkes stakes her claim as the new ice-master of horror fiction."
— Luke Dumas, author of THE PALEONTOLOGIST and A HISTORY OF FEAR

"An astonishing achievement. The writing is raw, bloody and powerful, and makes me wonder if Ally Wilkes has fire and ice flowing in her veins. This is a book not so much to be described as experienced, so most definitely don't miss it!"
— Alison Littlewood, author of THE HIDDEN PEOPLE

"With ALL THE WHITE SPACES, Ally Wilkes chilled readers to the bone, and now with WHERE THE DEAD WAIT, she sucks the very marrow out from them. Hallucinatory, haunting, and hunger-panged, this frostbitten novel gnawed away at my very sanity and I loved every nibble of it."
— Clay McLeod Chapman, author of GHOST EATERS

"Suffused with dread—and longing—from page one. A haunting read, in every sense of the word. I couldn't put it down!"
— S.A. Barnes, author of DEAD SILENCE