Home Workout: Become Slim And Muscular in 30 Minutes a Day With 15 Best Proven Workouts (Paperback)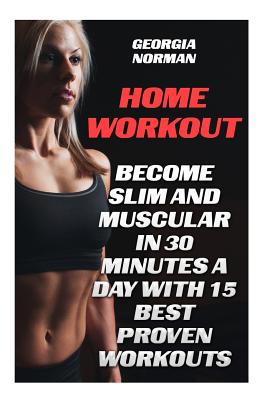 $8.95

In Our Warehouse - Expected arrival in 2-5 days
Description
---
Getting Your FREE Bonus
Download this book, read it to the end and see "BONUS: Your FREE Gift" chapter after the conclusion.
Home Workout: (FREE Bonus Included) Become Slim And Muscular in 30 Minutes a Day With 15 Best Proven Workouts
Exercise and diet have become very popular topics. There are many arguments regarding the right size a body should be. People talk about super slim models or exceptionally muscular men and women. In fact, the right body size is the one that you are comfortable with. In all honesty most people would like to see their bodies looking a little slimmer and more toned. The majority of these people do not have the time to commit to exercise routines and expensive gym memberships. However, it is possible to improve your fitness through thirty minutes of exercise every day. Even better, you do not need any specialist equipment to complete these exercises; they can be undertaken anywhere; this means there is no excuse for not improving your general level of fitness. This book will help to guide you through the following methods of improving your muscles and slimming down:
An introduction to the home workout and why it has become so popular.
Five effective workouts for beginners.
Another five workouts for anyone at an intermediate level.
Five more workouts which are designed for those at an advanced level.
Download your E book "Home Workout: Become Slim And Muscular in 30 Minutes a Day With 15 Best Proven Workouts" by scrolling up and clicking "Buy Now with 1-Click" button