Punch Up!, Vol. 5 (Paperback)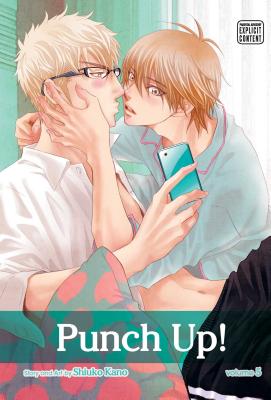 $14.99
Email or call for price.
Other Books in Series
This is book number 5 in the Punch Up! series.
Description
---
These construction workers like to play with their tools.

High-flying architect Maki Motoharu loves looking at hot guys, and where better to find a lot of good-looking, well-toned hotties than a construction site? But after one visit, Motoharu winds up with an unexpected commitment. Ironworker Ohki Kouta is young, foul-mouthed, and not at all Motoharu's type!

Elite architect Motoharu Maki and 20-year-old construction worker Kouta Ohki are living the good life. There's only one small hitch—Motoharu's already impressive libido is only growing stronger! When Kouta leaves for a work-sponsored retreat, of course Motoharu sneaks along for some sexy time…in the public baths…at the group dinner party… This guy just doesn't quit! Kouta, on the other hand, is patiently waiting for Motoharu to stop screwing around and get serious. But is passionate love even in the plans for this architect, or is it high time Kouta sent him back to the drawing board?
About the Author
---
Shiuko Kano is the creator of over 30 manga. Her English-language releases include Affair, I'm Not Your Steppin' Stone, Kiss All the Boys, Maybe I'm Your Steppin' Stone, Play Boy Blues, Tough Love Baby, and Yakuza in Love. A native of Osaka Prefecture, she was born on March 4th with an O blood type and is the sister of mangaka Kazuna Uchida. You can find out more about Shiuko Kano at her website, http://ekennel.blog.fc2.com/.