Everything You Should Know About: Kangaroos Faster Learning Facts (Paperback)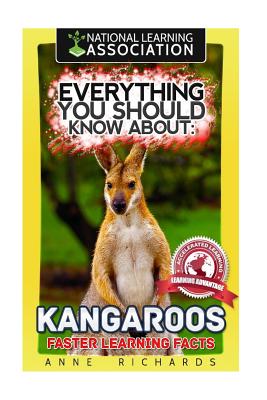 $11.99
Email or call for price.
Description
---
National Learning Association presents: EVERYTHING YOU SHOULD KNOW ABOUT: KANGAROOS FASTER LEARNING FACTS
Are your children curious about Kangaroos? Would they like to know how they got their name? Have they learnt what food kangaroos like to eat or what Antilopine kangaroos look like? Inside this book, your children will begin a journey that will satisfy their curiosity by answering questions like these and many more
EVERYTHING YOU SHOULD KNOW ABOUT: KANGAROOS will allow your child to learn more about the wonderful world in which we live, with a fun and engaging approach that will light a fire in their imagination.
We're raising our children in an era where attention spans are continuously decreasing. National Learning Association provides a fun, and interactive way of keep your children engaged and looking forward to learn, with beautiful pictures, coupled with the amazing, fun facts.
Get your kids learning today Pick up your copy of National Learning Association EVERYTHING YOU SHOULD KNOW ABOUT: KANGAROOS book now Table of Contents Introduction Chapter 1- What Do They Look Like? Chapter 2- They are Australia's Unofficial Animal Symbol Chapter 3- How Did They Get Their Name? Chapter 4- What Other Names are Associated With Them? Chapter 5- The Antilopine Kangaroo Chapter 6- The Eastern Grey Kangaroo Chapter 7- The Western Grey Kangaroo Chapter 8- The Red Kangaroo Chapter 9- Kangaroos are Nocturnal Creatures Chapter 10- How Do They Move? Chapter 11- What Other Ways Can They Move From One Place to Another? Chapter 12- What Types of Food Do They Eat? Chapter 13- What's Special About Their Teeth? Chapter 14- They Can Survive Long Periods Without Water Chapter 15- What is a Mob? Chapter 16- They Have a Habit of Getting Into Fights Chapter 17- How Do They Reproduce? Chapter 18- Female Kangaroos Can Make Two Variations of Milk at Once Chapter 19- Tell Me About Baby Kangaroos.