Fashioning the Duke (Paperback)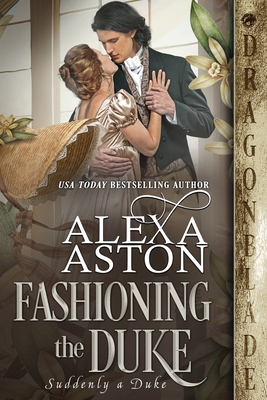 $14.99
Email or call for price.
Description
---
Eight titled peers who never expected to become dukes do just that-and are attracted to females whom Polite Society does not believe worthy of the title duchess, due to their desires to be more than typical ladies of the ton.
But these sudden dukes choose to forge their own paths with the remarkable women who are already doing just that-and the resulting love proves that trusting one's heart is always the right choice.
A career army officer who never has known love . . .
The bastard daughter of an earl who owns a millinery shop . . .
A growing passion that could turn Polite Society on its ear . . .
Major-General Nigel Foxwell has spent his entire adult life at war. When he receives word that his much older half-brother has died, Fox inherits not only the title Duke of Abington-but he becomes the guardian to his two nieces who are on the verge of making their come-outs.
Miss Delaney Colebourne lost her beloved father and suffers the wrath of his heir. The new Lord Kinnison tells members of the ton if they frequent Delaney's Designs, he and Lady Kinnison will give them the cut direct. His edict causes Delaney's business to evaporate overnight.
A chance meeting at a solicitor's office has Fox pleading with Delaney to help him manage his nieces' come-outs. She agrees to design the young ladies' wardrobes and has her former employees help her in making up gowns for the pair. An attraction grows-and Fox and Delaney act upon-but she refuses to marry him.
Will this newly-minted duke convince Delaney that she can maintain her independence and still love him-or will her mistrust of Polite Society prevent her from a lifetime of love?
Find the answer in Alexa Aston's Fashioning the Duke, Book 5 in Suddenly a Duke.
Suddenly a Duke
Book 1 - Portrait of the Duke
Book 2 - Music for the Duke
Book 3 - Polishing the Duke
Book 4 - Designs on the Duke
Book 5 - Fashioning the Duke
Book 6 - Love Blooms with the Duke
Book 7 - Training the Duke
Book 8 - Investigating the Duke