Cows Have No Top Teeth: A light-hearted book on how much cows love chewing (Awesome Animals) (Paperback)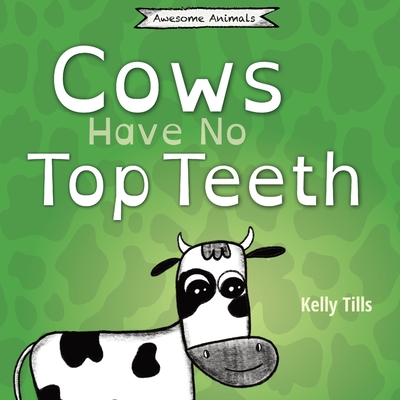 $15.70
Email or call for price.
Description
---
A fun farm animals book for ages 0-5Can a cow whistle a happy tune? No But they sure have a lovely smile.
In this light-hearted picture book about cows, learn just how much cows love to chew, even without top teeth. They graze all day, then rest, and chew some more. Cows Have No Top Teeth is perfect for home or for classroom read alouds. Kids love shouting out the answers to silly questions like "Does a cow drink through a straw?" This call and response format is a time-tested method for keeping kids engaged and interacting, instead of just chewing on the pages.
Fun facts about every kid's favorite farm animal Excellent for teaching STEM topics about teeth, chewing and eating.
❉
Parents and kids love it.
- "Im 7 years old and Santa brought me this book and it's my favorite book this year. I love reading it "
- "I love this book and this series."
- "Cute illustrations and fun commentary make this a little winner for youngsters - and oldersters"
❉
Book 4 of 6 in the Awesome Animals Series
Other books in the series:
Snakes Have No Legs
Pigs Never Sweat
Geckos Don't Blink
Cows Have No Top Teeth
Turtles Have Secret Ears
Chicks Don't Eat Candy
The Awesome Animals series is a collection of weird but true books for kids about the animal kingdom. Half fact and half fun, each book features an animal which is missing something that we're taught to expect should be there. But these animals don't just thrive despite that absence, they thrive because of it.
All books use a dyslexia-friendly type-face. With dyslexia, we often focus on the challenges - difficulty reading. But thanks to the way the dyslexic brain is built, people with dyslexia are often creative, intuitive and highly successful. In other words, those people aren't thriving despite their dyslexic brain, they are thriving because of it.