WolfeStrike (Paperback)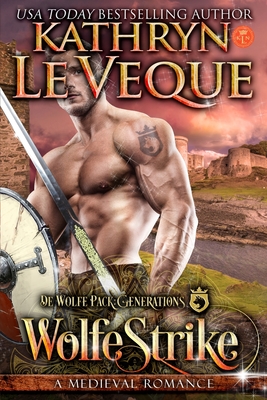 $14.00
Email or call for price.
Description
---
It's a new generation of de Wolfe Pack cubs, carrying on the tradition of their illustrious grandfather. Thomas "Tor" de Wolfe has his hands full with battling women and battling enemies as he secures a border castle for Edward I. Chaos is the name of the game
Tor married, and lost, his wife at a young age. Because his wife was an orphan, he inherited her two sisters when they wed and when she died, they became his responsibility.
Unfortunately, the two spinster sisters view Tor as their property.
When Tor meets the worldly Isalyn de Featherstone, he is smitten. Isalyn, however, is not. Tor is big and handsome, but lives too much of a provincial life. She wants big cities, excitement, money, and no baggage of a dead wife. Isalyn's father, however, feels differently - and Isalyn finds herself betrothed to the gentle de Wolfe giant. The spinsters have a new target.
Let the battles begin
Enter a world of medieval mayhem, adventure, but most of all, of an overwhelming passion that soon consumes both Tor and Isalyn. Add an ambitious and jilted suitor into the mix, and it could mean the end for everything they have worked so hard to build.
But a strong love is worth fighting for, and no love is stronger than that of a de Wolfe.