The Hot or Not Quiz for Couples: A Sexy Game of Naughty Questions and Revealing Answers (Paperback)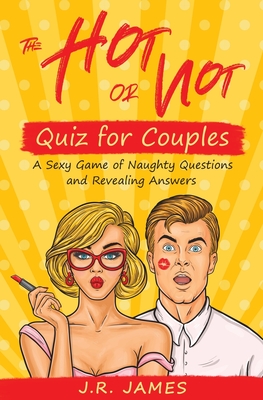 $10.49
Email or call for price.
Description
---
Are you looking for a fun, flirty, and easy game to spice up your sex life? Do you know what your partner desperately craves in the bedroom and do they know what really turns you on?
Let's face it; sometimes couples don't do a great job of communicating their sexual fantasies, desires, and intimate needs. Maybe the topic feels awkward, or just never comes up, and so the conversation never happens.
But tonight, that's all going to change.
Get ready for a fun, easy, and very sexy quiz game that starts conversations about what the two of you find hot (or not) Discover exactly what your partner thinks about sexual fantasies, new sex positions, secret desires, and everything that leads to hot sex
You think you already know everything that turns your partner on? Perfect Put yourself to the test and try and guess how they'll answer each question in the quiz Whoever is more accurate in predicting their partner's answers wins sexy rewards
Whether you're just dating, newlywed, or happily married, every couple wants an exciting and steamy sex life This game is both intimate and fun, and your sex life will never be the same
The Hot or Not Sex Quiz for Couples is great for:
Hot Date night - A romantic evening of sexy conversation heats things up.

Rekindling Intimacy - Sexual discussion brings a couple closer together.

Vacation game - The two of you can play this anywhere

Increasing attraction - You'll learn exactly what turns your partner on

Opening sexual possibilities - Discover new sexual opportunities either of you may want to explore
It's the perfect sexy gift for him or her Great gift idea for a birthday, anniversary honeymoon, Valentine's Day, Christmas, weddings, bridal shower, or bachelorette party
Make tonight a night they'll never forget
Scroll up to the top and click the "Buy Now" button to get your copy NOW