Ayudantes En Covid-19: Una Explicación Objetiva Pero Optimista de la Pandemia de Coronavirus (Paperback)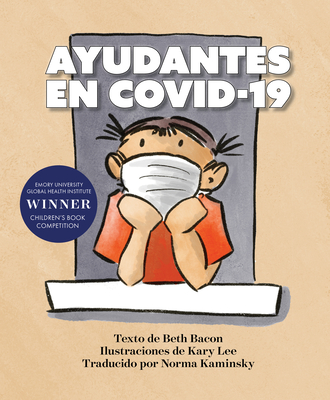 $10.95
Email or call for price.
Description
---
Ganador del Concurso de libros infantiles de Emory Global Health Institute de 2020.
Busca formas honestas pero positivas de hablar con los ni os sobre el Coronavirus-19 (Covid-19)? AYUDANTES EN COVID-19 describe la pandemia de forma objetiva pero optimista. Este cuento asegura a los ni os y sus padres que muchas personas, incluidos los ni os mismos, est n ayudando a combatir el virus. En AYUDANTES EN COVID-19, las bellas y coloridas ilustraciones de Kary Lee y las claras y reconfortantes palabras de Beth Bacon explican a los ni os que, aunque se sientan asilados e indefensos, no est n solos.
De hecho, al quedarse en casa durante la cuarentena, desempe an un papel importante para ayudar a bajar la tasa de infecci n de coronavirus. Este libro ayuda a padres, maestros y bibliotecarios a conversar sobre muchos temas de la pandemia, como por ejemplo:

El cierre de escuelas, parques y teatros debido a reglas de cuarentena o resguardo en el lugar
Distanciamiento social
Uso de mascarillas durante la pandemia
Sentimientos de impotencia, aislamiento y aburrimiento causados por las reglas de distanciamiento social
Investigaci n m dica para poner fin a la pandemia
Cancelaci n de eventos deportivos y fiestas de cumplea os
Adem's, las p ginas adicionales explican:

Datos sobre el virus Covid-19
Qu pueden hacer los ni os para no adquirir Covid-19
Aun durante la pandemia, las comunidades de todo el mundo cuentan con muchos ayudantes para luchar contra esta nueva enfermedad: m dicos, enfermeros, investigadores, cient ficos, agricultores, camioneros, recolectores de basura, comerciantes, empleados de correo, l deres gubernamentales, periodistas, y hasta ni os en cuarentena.
About the Author
---
When Beth Bacon was young, she loved to read. Now she loves to write. Her other books include I Hate Reading, The Worst Book Ever, The Book No One Wants To Read and Blank Space. She earned an MFA in writing for children from Vermont College of Fine Arts. She also has a degree in communications from NYU and a degree in literature from Harvard. She and her husband have two sons, a cat, and lately, lots of foreign exchange students. VISIT HER WEB SITE at https: //bethbaconauthor.com/ As a kid, if Kary Lee wasn't in her backyard painting or tapping at the typewriter, she was most likely directing (bossing around) the neighborhood kids in one of her screenplays. After college, she landed a job as an art director because she liked the bossy part. She took a painting class and won a book illustration award. Five books and a Mom's Choice award later, she's never looked back. Kary lives in Seattle with her husband Charles and a backyard bunny. VISIT HER WEB SITE at https: //karyleestudios.com/ Emory Global Health Institute (EGHI) brings together diverse disciplines to tackle global health issues. In 2020, Covid-19 began spreading around the United States. Inspired by his grandchildrens' questions about the pandemic, Dr. Jeffrey Koplan, the Director of EGHI and Vice President for Global Health at Emory University, believed children's books could provide answers. So EGHI held an ebook competition. 260 stories were submitted. Covid-19 Helpers is the winning book.