The Warship: Rise of the Jain, Book Two (Paperback)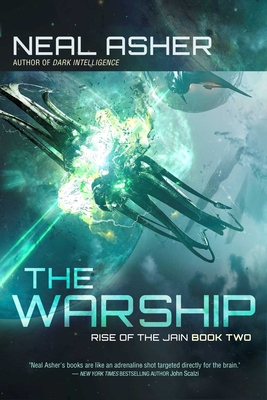 Description
---
One of The Verge's 10 New Science Fiction and Fantasy Books to Check Out!

The dangers of ancient technology loom over the Polity in the sequel to The Soldier, Neal Asher's latest action-packed space opera series.

The haiman Orlandine, charged with safeguarding lethal Jain tech swirling inside an accretion disc located in the distant reaches of space, has weaponized a black hole to eliminate the threat. But others are suspicious of her motives, and both the Polity AIs and the leaders of the alien prador kingdom dispatch fleets of warships in anticipation of conflict.

As the black hole continues to eat its way through the planets in the accretion disc, making its way towards a dead sun, it becomes clear the disc has been hiding a larger secret. Nefarious forces with ulterior motives have manipulated Orlandine into deploying the black hole, triggering a series of larger events that will uncover a danger far older than even the Polity itself.

From British science fiction writer Neal Asher, The War Ship picks up right where its predecessor, The Soldier, left off, showcasing Asher's unique take on cutting-edge and fast-paced science fiction.
About the Author
---
Neal Asher is a science fiction writer whose work has been nominated for both the Philip K. Dick and the British Fantasy Society awards. He has published more than twenty books, many set within his "Polity" universe, including Gridlinked, The Skinner, and Dark Intelligence. He divides his time between Essex and a home in Crete.
Praise For…
---
Praise for The Warship

"In this riveting sequel to The Soldier, Asher ramps up the pyrotechnicsin the thunderous first salvoes of war . . . while entwining the reader in twisty conundrums and misdirections. This is Asher at the top of his game and the field of military science fiction."—Publishers Weekly, Starred Review

"Asher's intergalactic chess match combines vivid descriptions of human, alien, and AI psyches with explosive and violent confrontations. . . . Asher's distinctive and compelling adventure will appeal to fans of of military science fiction, space opera, and even cyberpunk."—Booklist

"Over the years I have returned to several comparisons when describing Asher's work: Doc Smith (for space operatics), Olaf Stapledon (for vast galactic-historical sweep), Jacobean revenge tragedy (for grotesquery, melodrama, and gaudy violence), carnival thrill rides (for mere visceral excitement). All those apply here, and those titanic battle sequences suggest that I add the Marvel superhero franchise – thrill rides for the eyes – to the list. . . . but it's also a lot smarter than those thrill-ride movies."—Locus, reviewed by Russell Letson

Praise for the Rise of the Jain Series

"Neal Asher's books are like an adrenaline shot targeted directly for the brain."—New York Times bestselling author John Scalzi

"With mind-blowing complexity, characters, and combat, Asher's work continues to combine the best of advanced cybertech and military SF."—Publishers Weekly, Starred Review

"A richly imagined, exotic world, nonstop action, and unimaginable stakes--I couldn't put The Soldier down."—Yoon Ha Lee, author of Ninefox Gambit

"Neal Asher's coruscating mix of epic space opera, weaponised Darwinism and high-stakes intrigue channels the primal flame of deep-core science fiction." —Paul McAuley, author of Four Hundred Billion Stars

"The Soldier provides everything we demand from Asher: a beautifully complex universe where AIs, aliens and post-humans scheme and struggle—magnificently awesome. Then Asher turns it up to eleven."—Peter F. Hamilton

"I had thought with the Transformation trilogy (Dark Intelligence, War Factory, Infinity Engine) that Asher had maxed out what could be done with the Polity setting—that the near-metaphysical implications of the fate of Penny Royal constituted a kind of narrative event horizon. I think I might have been mistaken."—Russell Letson, Locus

"In addition to elaborate space battles between gigantic warships and spectacular descriptions of technology, Asher excels at "humanizing" his intelligent machines."—Booklist

General Praise for Neal Asher:

"Neal Asher's books are like an adrenaline shot targeted directly for the brain." —New York Times bestselling author John Scalzi

"With mind-blowing complexity, characters, and combat, Asher's work continues to combine the best of advanced cybertech and military SF."—Publishers Weekly, starred review

"Asher is a modern master of sci-fi." —Starburst magazine

"A wide-screen special-effects extravaganza, a space opera featuring gods and monsters . . . Doc Smith and Olaf Stapledon in a blender, turned up to eleven, with the contents splattering across the ceiling."—Russell Letson, Locus

"Asher has an amazing talent for world-building, for writing larger-than-life characters, for weaving gripping plots and for imagining exotic alien races and wonderful technologies. Huge ships! Big weapons! Space battles! Ground battles! Treason! Revenge! This is New Space Opera at its best." —Sense of Wonder

"Hardboiled, fast-paced space opera . . . Asher's books are similar to the world of Iain M. Banks' Culture universe, but the Polity is arguably a much darker and more vicious environment—and all the better for it." —The Register