Tonight: The Great Earthquake (Paperback)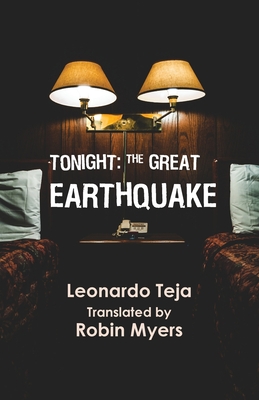 $24.00
Email or call for price.
Description
---
Originally published as Esta Noche, El Gran Terremoto in 2018 by Ediciones Ant lope, Tonight: The Great Earthquake explores the unresolvable relationship between catastrophe, uncertainty, and control. Set in a society that organizes its conduct and traditions around the inevitable-but unspecified-arrival of The Great Earthquake, the book centers on Diego Pyrite, a young man just hired as a motel receptionist. Diego's first on-the-job instructions make one thing very clear: no matter what, one room in the motel must always be left unoccupied and ready to receive a distinguished guest. This guest might arrive in the next few minutes, or it might take him many years. One thing is certain: he'll come without warning.
Tonight: The Great Earthquake is a deft, outlandishly funny, often unsettling exploration not only of how human societies handle uncertainty, but also of our interactions with order, institutions, and authoritarianism. Formally and conceptually inventive-a true hybrid novel-as-assemblage, complete with an amalgam of disparate media-the novel is less arc than spiral, exposing and refracting an unconscious landscape.