Are You My Monster? (I Need My Monster) (Board book)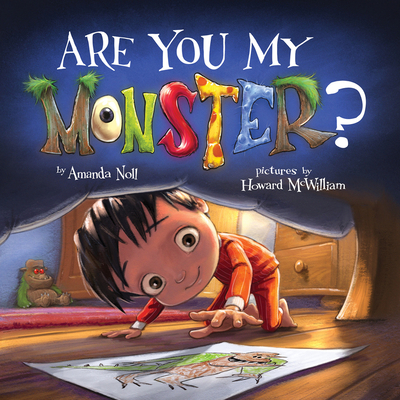 Description
---
Are You My Monster? is a colorful, funny, first monster book especially for babies and toddlers, inspired by the award-winning I Need My Monster. Can you help the little boy find the monster that matches his drawing so he can go to sleep?

In Are You My Monster?, a monster-loving boy tries to find his monster. He compares his drawing—showing a green monster with a long tail, pointy nails, and big teeth—with an assortment of amusing monsters, until he finds the perfect match. This turns out to be his beloved STUFFED monster toy. Youngest children will love comparing colors, checking if tails are long or short, if nails are pointy or round, if teeth are big or small until they, too, find the monster who is a perfect match.
About the Author
---
Howard McWilliam is the award-winning illustrator of I Need My Monster, Hey, That's MY Monster!, When a Dragon Moves In, and When a Dragon Moves In Again, along with many other children's books. He is the cover artist of The Week (US and UK) and MoneyWeek, and he lives with his wife and three sons. The monster under his bed is Brompton.

Amanda Noll is the author of the award-winning, best-selling I Need My Monster and Hey, That's MY Monster! She blames her fundamentally twisted sense of humor on genetics and the steady stream of Australian humor on which she was raised. When not teaching full-time, she loves reading and hanging out with her husband and four children. The monster under her bed is Gertie.
Praise For…
---
"The sweet ending shows that even those with sharp teeth and scratchy claws can be cuddly, turning the monster-under-the-bed trope on its head." —School Library Journal

"4 stars. Are You My Monster creates a playful adventure any young child would love to explore." —https://tometender.tumblr.com/

"This is such a cute and fun read! Ethan makes a drawing of his monster. After all, only one monster is the monster for him. One by one, the monsters appear, and Ethan goes down his checklist to see if they are the one he's looking for. Sharp teeth, a long tale, green and... some criteria are met. Others not. As the monster go by and none seem to fulfill his entire list, the question of whether or not he'll ever find his monster arises. Not only are the monster super sweet (in a scary, monstery way, of course), but the check list is something readers are sure to enjoy. Every two-page spread has a monster on one side, and Ethan and his list on the other. It's a simple concept and that's exactly what makes it fun. Young listeners will easily be sucked into Ethan's search and join in as each aspect of the monster is explored. The illustrations are bright and bring across the right atmosphere. Each monster packs their own personality, and young readers are sure to find their own personal favorites. They'll probably want a monster of their own too."—Tonja Drecker, Bookworm for Kids

"For parents and little ones who like the colorful pictures of McWilliams and just a little frisson of adventure and fear, these will be the perfect choices for snuggling up at bedtime." —Jennifer Wharton, Jean Little Library