Mop Rides the Waves of Change: A Mop Rides Story (Emotional Regulation for Kids, Save the Oceans, Surfing for K ids) (Hardcover)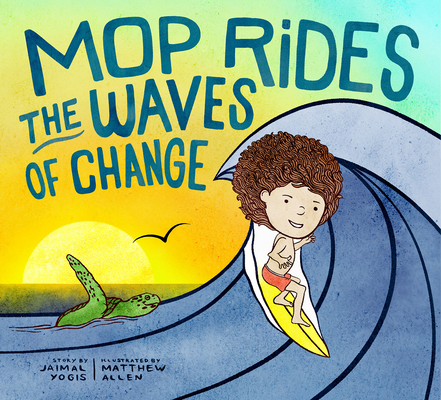 Other Books in Series
This is book number 2 in the Mop Rides series.
Description
---
The second in the Mop Rides series! Surfer kid Mop and his friends are back in a quest to save the ocean with mindfulness, surfing, and a band

Mop and his friends are back, this time with a band, The Coconut Heads. Mop is riding high from the lessons he's learned about riding the waves of life: to breathe, ride the good waves, and let the bad waves go by. But just when he feels like he's getting the hang of it, he notices a turtle tangled in plastic at the beach. Paddling out to catch a wave, he sees more plastic, and he can't get rid of his anger. It seems like he's back to square one. But after an epic wipeout, he has a realization: deep down, under the anger, is love. He loves the ocean, and he wants to help keep it clean.

But how? Let's just say it involves some party waves and a benefit concert by the Coconut Heads--and it's not just their parents who show up.

Celebrated San Francisco surfer-journalist-dad Jaimal Yogis teaches 4-8 year-olds timeless beach wisdom with the continuing story of Mop, a sensitive and fun-loving kid who just wants to be in the ocean.

With stylish full-color beachy illustrations from cover to cover by So-Cal surfer Matt Allen.
About the Author
---
Jaimal Yogis is the author of numerous books including Mop Rides the Waves of Life, Saltwater Buddha, and All Our Waves Are Water, which was named a "Best Beach Read of 2017" by the BBC. His work has been featured in the pages of O, the Oprah Magazine, Outside, Forbes, The Atlantic, ESPN Magazine, and many others. He lives and surfs in San Francisco with his wife, Amy DuRoss, and their three sons.

Matthew Allen is a surfer and artist from Southern California. A former Surfer Magazine Art Director, Matthew now spends his days creating art based on his favorite muses, the mercurial sea and the amalgam of people and vessels that operate in and around it. Matthew lives in Costa Mesa, California.
Praise For…
---
Named one of the 9 best surf books for kids by The Inertia

Praise for Mop Rides the Waves of Life (#1 in the Mop Rides series)

Named a 2020 Favorite of The Children's Book Review

Named one of the 25 Best Sports Books for Kids of All Ages by Book Riot

"Pure gold—especially now. During a time when even the most angelic kids are prone to temper tantrums because of quarantine, Mop is an invaluable teaching tool and an all-around heartwarming read."
—Alexis Burling, San Francisco Chronicle

"Kindergarten story times will benefit from the focus on emotions and learning mindfulness, with the simple breathing exercises to help children discover how to navigate daily highs and lows."
—School Library Journal

"Tells how one little boy navigates conflicts at his school by channeling the same techniques he uses when he hangs 10."
—The New York Times

"The book every kid needs right now to navigate their emotions."
—Bonnie Tsui, New York Times staff writer and author of Why We Swim

"The steps given here to handle raw emotions should be part of any child's emotional toolkit."
—Booklist

"Our minds can be as peaceful or as wild as the seas. Mop is a perfect cool character to introduce children (and overgrown children) to mindfulness so they learn to turn wipeouts into opportunities."
—Robert Thurman, author of Man of Peace: The Illustrated Biography of the Dalai Lama of Tibet

"The Waves of Life are never easy to ride but these are our waves. They are waves we must ride because they're a part of us. No one can ride our waves for us. Embrace the process and the ride becomes smoother and sweeter."
—Gerry Lopez, aka Mr. Pipeline

"What if every kid on the planet understood and had access to their blue mind? Mop, Jaimal, and Matthew are making the world healthier one wave at a time."
—Dr. Wallace J. Nichols, author of Blue Mind: The Surprising Science That Shows How Being Near, In, On, or Under Water Can Make You Happier, Healthier, More Connected, and Better at What You Do

"Through clear language and charming illustrations, this book offers children and adults a useful metaphor for how to be mindful in every aspect of our lives—in times of joy, and also in those inevitable moments that challenge us." 
—Lion's Roar

"What Mop and his classmates learn—what we can all learn—is that life presents endless challenges and equally innumerable opportunities for growth. Learning to recognize when we're wrong is an invaluable tool."
—Memphis Parent

"Mop shows kids how he rides the waves of emotions in this delightful and summery story."
—First Time Parent Magazine