The Guardians of Light Series: Books 1 through 4 (Paperback)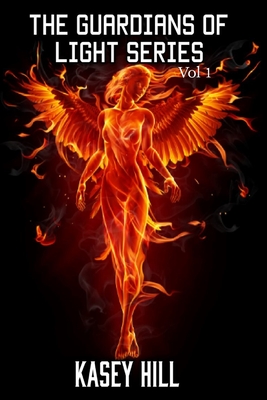 $30.00
Email or call for price.
Description
---
Slip into creation myths with The Guardians of Light as they battle against evil. Follow Incaendiel and Sophie's love story as they fight to restore all of the fallen angels back to the light. Watch as their children - Damian, Luxina, and Xavier - try everything in their power to thwart the apocalypse on the horizon. These five aren't just angels; they are the fabled Shining Ones, heirs to the galaxy, and they are the only hope for the future of the Universe as the powerful god Alpha tries to bring it all down to ruins. Jump into this alternate creation retelling of gods and goddesses, angels and fallen angels. Join the Nephilim and Fae as they help the Shining Ones rein in Alpha. Watch as the Guardians of Light find allies in the Werewolves, Vampires, and all Children of the Night. This series has it all
Firefly of Immortality (Book 1)
What if you woke up one day to find out that you aren't an ordinary girl living in an ordinary world? Instead, you are an angel in a human body, and both sides of the fence are fighting, trying to pull you to their side. But, what is good and what is evil are reversed, and what you would normally believe are the bad guys are really the good guys... Follow Sophie as she tries to come to terms with her angelic self and relearn everything about her oversoul, including the secrets of her heart, as the heavenly war wages on between the factions of angels, her brother and sisters, and the love of her life, Incaendiel.
The Shining Ones (Book 2)
It's been 8 years since Incaendiel and Sophie helped all of the fallen angels return to the summit. Both of them hold a secret the other does not know, and they have yet to see each other after Incaendiel has been stranded on earth to walk alone in darkness. But this isn't about them, it's about Luxina, Xavier, and Damien as they all stand the test of time against the fallen demiurge, Alpha. The clock is clicking closer to an apocalypse and it is up to these three to stop it with their mysterious powers granted to them.
Firefly: The Half-Blood Angel (Book 3)
Alpha is getting closer to perfecting his experiments. His main test subject, Damian, is losing hope in ever winning the war against time. As Alpha creates more creatures, Damian is trying to stay alive. No matter how he tries, he can no longer please his master. His only option is to escape, but in doing so, he may lose the very thing he wishes to never lose if he doesn't help other prisoners escape as well: Luxina. The clock is ticking closer to doomsday, and Damian is trying everything in his power to stop Alpha from bringing about the apocalypse.
The Valley of the Shadow of Death: Nephilim Rising (Book 4)
The Shining Ones have finally all joined forces against the tyrannical Alpha as the apocalypse looms closer and closer on the horizon. Alpha is creating more and more monsters and creatures daily to thwart the Guardians of Light in their crusade to restore balance. They are now on a quest to find the manna from the heavens to remove their Seelie enchantments and become the unrestricted beings the universe had intended them to be. Join Luxina, Xavier, and Damian as they face new monsters of the deep as they travel to the infamous city of Atlantis and come to terms with what the future holds