The Stranger's Farewell: English-Pashto Edition (Hoopoe Teaching-Stories) (Paperback)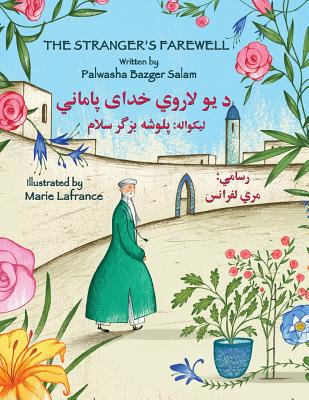 $9.99
In Our Warehouse - Expected arrival in 2-5 days
Description
---
The Stranger's Farewell is a very old story, one that has entertained people all over the world for hundreds of years. A stranger visits a young couple - he has been traveling for many days - and asks for a glass of water and a place to rest. The young couple make him welcome and invite the stranger into their home to share their meal. As we know, small actions sometimes have large consequences, and this one did. As the stranger is leaving to go on his way, he says, "May the next thing you do last until you say, 'Enough'." These parting words reward their generosity in an amazing way.
News of the young couple's changed status travels fast and prompts a greedy merchant to seek out the stranger in the hope of gaining a similar reward for himself. But, of course, the result is very different. This story can teach us - in a very assessable way - something about the nature of giving and receiving.
This tale is set in Afghanistan where the story is known by many people. This setting effectively introduces children to a culture and people who may be unfamiliar to them. The story is retold here for young people by the Afghan storyteller and teacher Palwasha Bazger Salam and beautifully illustrated by Marie Lafrance.
د لاروي خدای پاماني ډېره پخوانئ کيسه ده، يوه چې له سلګونو کلونو راهيسې په نړيواله توګه د خلکو ساعت تير کړی دی. يو ناپيژندلی کس پر ځوانی جوړې پيښيږي - هغه د څو ورځو سفر ستړی دی - يو ګيلاس اوبه او د آرام ځای غواړي. ځوانه جوړه هغه ته ښه راغلاست وايي او خپل کور ته يې راغواړي او خپله ډوډئ ورسره شريکوي. لکه څرنګه چې پوهيږو، کوچني اعمال ځينې وخت لویې پايلی لري، لکه څرنګه چې دی عمل درلودی. څه وخت چې ناپيژندلی پر خپله لار روانيږي، هغه وايي "هيله ده دا بل ورپسې کار چې تاسې کوئ تر هغې دوام وکړي چې تاسې ورته 'بس' وواياست". دا بيليدونکي ټکي د هغوی سخا په حيرانوونکي طريقه لمانځي.
د ځوانی جوړی د بدل حالت خبر ګړندی خپريږي، او يو حريص تجار هڅوي چې هغه هم دا نا پيژندلی د ځان لپاره د انعام په تمه ولټوي. خو، طبعاً نتيجه ډېره بدله وي. دا کيسه موږ ته - ډېر په اندازه کيدونکی طريقه - د ورکړې او راکړی باره کې يو څه راښيي.
دا کيسه د أفغانستان ده چې ډېر خلک ترې خبر دي. د کيسې حالت ماشومان له يوه کلتور سره بلدوي چې ډېر به ترې ناخبره وي. دا کيسه دلته ځوانانو ته د افغان کيسه ويونکی او ښوونکی پلوشه بزګر سلام لخوا بيانيږي او په ښکلي توګه د ماري لافرانس لخوا رسامي شوی ده.