Horizon Alpha: Homecoming (Paperback)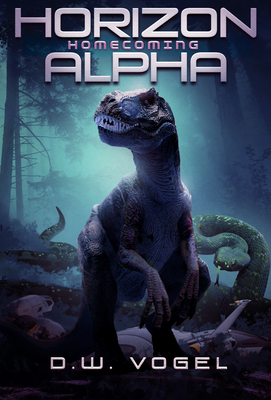 $13.95
Email or call for price.
Other Books in Series
This is book number 3 in the Horizon Arc series.
Description
---
The thrilling conclusion to the Horizon Alpha series

We are alive.

Three words in Morse code change everything.

Caleb Wilde thought his days outside Carthage Valley were over. Safe behind high mountains, the last of humanity was secure and thriving. But everything changes when a message comes through from the spaceship they abandoned in orbit. Twelve crew members, including Caleb's father, are still alive on the failing ship. And they know of someone who might be able to get them down, except she's at another crash site across a deep sea channel.

As the foremost expert on surviving in the wilds, Caleb is the obvious choice to lead the expedition. He is determined to bring everyone safely back to Carthage. But while exploring new reaches of Tau Ceti e, he learns of an impending migration of piranha-like 'saurs called the Flood. The migration path leads right through humanity's cavernous paradise. On the first full moon after the summer solstice, the Flood will arrive in Carthage. 

Across the jungles and mountains of Ceti, Caleb has taken on 'saurs of all types and sizes and come out on top. Now, he must find a way to stop the Flood from invading his home. If he fails, everyone left on Ceti will fall to the jaws of a million hungry beasts.
About the Author
---
D. W. Vogel is a veterinarian, marathon runner, cancer survivor, boardgame developer for SolarFlare Games, and current president of Cincinnati Fiction Writers. She is the author of the Horizon series, and Super Dungeon Explore: The Forgotten King from Future House Publishing.
Praise For…
---
"A rollicking adventure for sci-fi and dinosaur fans."
- Mike Fredericks, Editor, The Prehistoric Times

"Horizon Alpha is a melting pot of all my favorite things: far-out sci-fi, gripping survival horror, and best of all, friggin' dinosaurs!"
- Tony Moore, Artist of The Walking Dead, Fear Agent, Deadpool