Genome (Extinction Files #2) (Paperback)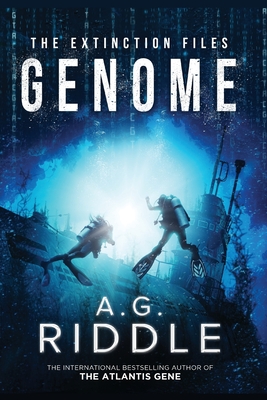 $21.84
In Our Warehouse - Expected arrival in 2-5 days
Other Books in Series
This is book number 2 in the Extinction Files series.
Description
---
A code hidden in the human genome will reveal the ultimate secret of human existence. And could hold humanity's only hope of survival.

* * *

Genome is the second and final book in A.G. Riddle's bestselling series, The Extinction Files.

* * *

In 2003, the first human genome was sequenced. It was a breakthrough of historic proportions, but only one scientist knows the full truth of what lies buried in our DNA. That secret will change everything we thought we knew about our past. And our future.

Dr. Paul Kraus has spent his career searching for what he calls humanity's lost tribes--human ancestors who have gone extinct. When Kraus compares the DNA samples of the lost tribes with our own, he discovers a pattern of changes. A code. He believes he knows what the code is, but the technology doesn't exist to fully decode it. To protect the secret, Kraus hides his work and disappears.

For years, the secret remains buried. When Kraus dies mysteriously, his work is lost forever.

Now the technology exists to finally unravel the code buried in the human genome. The race to find Kraus's research has begun, and one group will do anything to find it.

Dr. Peyton Shaw and her mother have obtained part of Kraus's research--and a cryptic message that could lead to the remaining pieces. They soon learn that finding those pieces may be more dangerous than anyone imagined. But there's no choice. His work is the key to stopping a global conspiracy--and an event that will change humanity forever.

The ultimate secret, buried in the human genome, will change our very understanding of what it means to be human. For Peyton, finding it may come at an incredible price. She must weigh the lives of strangers against those she loves: Desmond Hughes and her mother. With time running out, Peyton makes a fateful choice--one that can never be undone.



Buy Now or Read for FREE in Kindle Unlimited (for a LIMITED TIME).



ABOUT GENOME

GENOME is the second novel in A.G. Riddle's new series, THE EXTINCTION FILES (a two-book series that is now complete). The first book in the series, PANDEMIC, takes readers inside the CDC and WHO response to a deadly outbreak and a conspiracy that stretches across time and the globe. GENOME completes the mystery with a fast-paced global thrill ride to find a mysterious code buried in the human genome. The series is the product of almost three years of research and features the real-life science and history blended with fiction that readers have come to know and love in Riddle's past novels. Published by Canyon Road, THE EXTINCTION FILES has been lauded by fans of Dan Brown, Michael Crichton, Preston & Child, Robert Masello, and James Rollins, giving the series over 3,000 reviews on Amazon and nearly 15,000 ratings on GoodReads.

About A.G. Riddle

A.G. Riddle's debut novel, The Atlantis Gene, became a global phenomenon. It is the first novel in a trilogy that has sold over two million copies, has been translated into 23 languages, and is in development to become a major motion picture.

His fourth novel, Departure, follows a group of survivors of a plane crash who find themselves in a changed world. After A.G. Riddle self-published the novel, Twentieth Century Fox optioned the book for a feature film and HarperVoyager (an imprint of HarperCollins) acquired it and published it in hardcover and paperback.