Time to Heal: American Epochs: Book III (Paperback)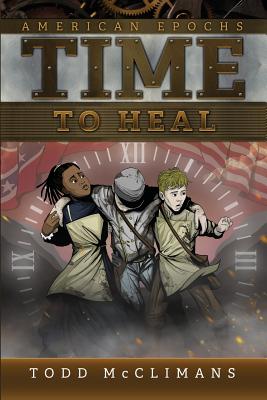 $12.95

In Our Warehouse - Expected arrival in 2-5 days
Other Books in Series
This is book number 3 in the American Epochs series.
Description
---
Time travel with Kristi and Ty to the battlefields and horror-filled hospitals of the American Civil War in Time to Heal. It's bad enough Kristi Connors has to share a room at school with her annoying stepsister. She's also had no news from Ty, her best friend and fellow time-traveler who stayed behind in 1858 after their last trip into the past. He seems to have disappeared from history Did he continue to work on the Underground Railroad? Become a surgeon? She finally discovers the heartbreaking truth: Ty was killed during the Battle of Antietam. Kristi decides she must return to the past again to save him. Meanwhile, back in 1862, after a close friend dies from a battlefield wound, Ty volunteers at a hospital in Washington. Given the dirtiest, smelliest, most menial jobs, he works day and night to improve the wretched, filthy conditions there, but the doctors won't listen. When he's finally sent to the battlefield, can he avoid the same fate as his friend? Kristi time-travels to Washington in 1862, but Ty has already left the hospital. She follows him to Antietam by working as a nurse for Clara Barton. In the end, will she be able to convince Ty to leave the battle and save himself? Or will her best friend become a number in the history books, just one more among the over 700,000 casualties of America's bloodiest war? Find out in Time to Heal, Book III in the American Epochs Series.
About the Author
---
Todd McClimans is a school administrator and former fifth grade teacher in Pennsylvania. A history buff and fantasy nerd, Todd first became interested in writing about history when teaching his students the riveting stories of patriots and their struggle for independence during the Revolutionary War. He aims to bring history to life for young readers by writing stories with a careful mixture of historical fact and fantastical story-telling, with characters to whom young readers can relate. He holds BA degrees in Creative Writing and Elementary Education and MAs in Creative Writing and Educational Leadership. Todd spends his free time reading, running, and riding his bike. An avid reader of fantasy, he lists his current favorite authors Lois Lowry, J.K. Rowling, J.R.R. Tolkien, Stephen King, David McCullough, and George R.R. Martin.