The Thunder Egg (Paperback)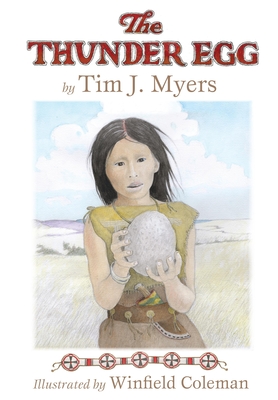 Email or call for price.
Not Available at This Time
Description
---
Stands-by-Herself lives with her grandmother in a buffalo-hide tipi among their Cheyenne people on the Great Plains. Other children make fun of her because she is always by herself dreaming. One day she finds a strange egg-shaped rock and senses there is something special about it. Taking it home, she cares for it as if it were a child, even though the other children mock her. When a terrible drought threatens to wipe out her people, could Stands-by-Herself's rock hold the key to their survival? The Thunder Egg is the story of a girl's coming of age, when she realizes that life can require us to think of others before ourselves and to follow what our hearts tell us. Featuring an author's note, informative notes on the illustrations, and a bibliography, the book is filled with vibrant images of Plains Indian life in the unspoiled West. Carefully crafted text and paintings bring a true authenticity to the time, place, and people of the story.
About the Author
---
Tim J. Myers is an author of children s and adult books who has published over ten books for children. Myers is also an artist, songwriter, and storyteller, as well as an educator in English and education at the university level. His book, Glad to Be Dad: A Call to Fatherhood won the inaugural Ben Franklin Digital Award from the Independent Book Publishers Association. He lives in Santa Clara, CA. Winfield Coleman is an artist, writer, editor, lecturer, and ethnological researcher who has worked on books, museum catalogs, and research materials on native peoples from around the world. He devotes a great deal of time to assuring the historical accuracy of his illustrations, as his beautiful paintings for The Thunder Egg show. His work, American Indian Horse Masks (written by Ned and Jody Martin), received the prestigious George Wittenborn Memorial Book Award for excellence in art publishing. Coleman lives in San Francisco, CA."