My Struggle: Book Three (Hardcover)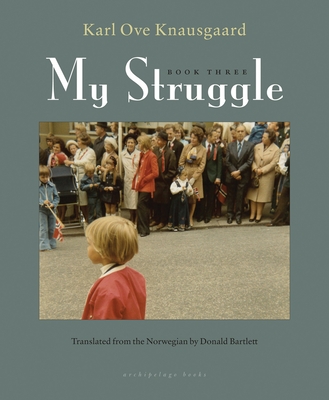 $27.00
Email or call for price.
Other Books in Series
This is book number 3 in the My Struggle series.
Description
---
A family of four--mother, father and two boys--move to the South Coast of Norway to a new house on a newly developed site. It is the early 1970s and the family's trajectory, upwardly mobile: the future seems limitless. In painstaking, sometimes self-lacerating detail, Knausgaard paints a world familiar to anyone who can recall the intensity and novelty of childhood experience, one in which children and adults lead parallel lives that never meet. Perhaps the most Proustian in the series, Book Three gives us Knausgaard's vivid, technicolor recollections of childhood, his emerging self-understanding, and the multilayered nature of time's passing, memory, and existence.

"Of course, I remember nothing from this time. It is completely impossible to identify with the infant my parents photographed; this is in fact so difficult it almost seems wrong to use the word 'I' when referring to it, lying in the baby bath, for instance, its skin unnaturally red, its arms and legs sprawling, and its face distorted in a scream no one remembers the reason for anymore ... Is that creature the same as the one sitting here in Malmö, writing this?"
--from Book Three of My Struggle

More praise for Book Three:

"A superbly told childhood story ... Knausgaard writes about everyday life as a child with a flow and continuity that all hangs together ... the text has a gravitational pull that draws the reader in only further." --Dag Og Tid (Norway)

"An aesthetic pleasure ... A patient, chiseled, and intense portrayal of a child's sensory experience. Book Three is a classic." --Klassekampen (Norway)

"Compelling reading ... Knausgaard has an equally good eye for small and large events." --Aftenposten (Norway)

"A gripping novel ... This childhood portrayal drifts off with a lightness and sensitivity that not many will associate with him ... There is no doubt that the series is worth following the author all the way." --Dagens Næringsliv (Norway)

"The man can write a novel about a solid, pretty traditional upbringing too ... A sensitive, sharp depiction of growing up in the 70's." --Adresseavisen (Norway)
About the Author
---
Karl Ove Knausgaard was born in Norway in 1968. His debut novel Out of This World won the Norwegian Critics Prize in 2004 and his A Time for Everything (Archipelago) was a finalist for the Nordic Council Prize. For My Struggle, Knausgaard received the Brage Award in 2009 (for Book One), the 2010 Book of the Year Prize in Morgenbladet, and the P2 Listeners' Prize. It is also a finalist for The Believer Fiction Prize. My Struggle has been translated into more than fifiteen languages. Knausgaard lives in Sweden with his wife and three children. The author lives in Sweden.
Praise For…
---
A New York Times Notable Book of the Year

FINALIST - THE IMPAC DUBLIN LITERARY AWARD

"Halfway through, this (six-volume) series is starting to look like an early-21st-century masterpiece." -- Kirkus Reviews (starred review)

"My Struggle is a truly original and enduring and great work of literature." -- The New York Times Book Review

"2014 was the Year of Knausgaard . . . the six-book memoir phenomenon My Struggle [is] . . . a page-turner that keeps readers turning pages, and talking about why they find Knausgaard so irresistible." -- Vanity Fair (11 Best Books of 2014)

"I fell into the first two books of My Struggle as if I were falling into a malarial fever. I did little else for four days except devour them, leaving email unanswered, dogs unwalked, dishes piling up in the sink. The steady headlamps of his prose stun and mesmerize you, as if you were a lumbering mammal caught in the middle of a highway . . . [Knausgaard] is contemporary fiction's alchemist of the ordinary. . . . This writer is constructing a towering edifice, in what feels like real time. Few artistic projects of our era feel more worth attending to." -- Dwight Garner, The New York Times

"Knausgaard's somewhat autobiographical novels are mesmerizing; he is contemporary fiction's alchemist of the ordinary. He manages, seemingly without effort, to make the minutia of one man's life as involving and gravity-laden as another writer's account of the assassination of Osama Bin Laden." -- The New York Times Holiday Gift Guide in recommending all three currently available hardcover volumes of My Struggle

"And then there is the beauty of Book Three itself. In the earlier volumes, Knausgaard's insistence that we witness all the steps the narrator takes to cook his dinner, from turning on the oven to forking the finished product onto his plate, sometimes seemed an irritating exercise in literary estrangement. But the young Karl Ove's attention to his dinner is in perfect keeping with the child's perspective, in which details of such daily events are a real source of interest and the focus of attention. It's as though we were finally let in on the secret referent of Knausgaard's style." — Elaine Blair, The New York Review of Books

"No writer has emerged on the world stage to more acclaim in at least a decade ...  readers of every stripe, it seems, are talking about Knausgaard." -- Evan Hughes, The New Yorker

"He has managed to transform self-abasement into a kind of grandeur, humiliation into a purified form of pride, and—above all—fiction into the most painful mode of truth-telling." -- The Daily Beast

"What's notable is Karl Ove's ability, rare these days, to be fully present in and mindful of his own existence. Every detail is put down without apparent vanity or decoration, as if the writing and the living are happening simultaneously. There shouldn't be anything remarkable about any of it except for the fact that it immerses you totally. You live his life with him. . . . The overweening absurdity of Ove's title is a bad joke that keeps coming back to you as you try to construct a life worthy of an adult. How to be more present, more mindful? Of ourselves, of others? For others?" -- Zadie Smith, The New York Review of Books

"The book investigates the bottomless accumulation of mysteries everyday life imposes. . . Knausgaard's approach is plain and scrupulous, sometimes casual, yet he never writes down. His subject is the beauty and terror of the fact that all life coexists with itself. A living hero who landed on greatness by abandoning every typical literary feint, an emperor whose nakedness surpasses royal finery." -- Jonathan Lethem, The Guardian

"[My Struggle is] a confessional outpouring that became a sensation. . . You imagine yourself as Karl Ove because it's impossible to get inside anyone else's head." -- Slate

"This segment of a genre-defying and unusual novel will leave readers hungry for the following installments, and serves as a fine entry point into the series." -- Publishers Weekly (starred review)

"Notable for his meticulous attention to the quotidian details of everyday life, Knausgaard's pared-down style and plainspoken narrator manage to propel these long books, concerned less with sustaining plot than with the accumulation of tiny intensities and candid disclosures, which makes for strangely engaging, compulsively page-turning prose." -- Booklist Online (starred review)

"For Knausgaard, who seems increasingly Wordsworthian as he writes himself into his long memoir, childhood is the truth of life, the source and heat of everything; to have to travel away from it, as we all must do, is something akin to moving away from the sun. Volume Three of "My Struggle" returns the reader to childhood (specifically, to Knausgaard's nineteen-seventies Norwegian childhood): it immerses us in those now-distant pungencies (cornflakes, being afraid of dad's bad moods, running around freely all day with friends, the feel of a cool new bag or some new swimming trunks, the horrors and bliss of days at school) as if to say to the reader: "See this, feel this, remember every single second of it, so as to reclaim it as it disappears from your grasp."" -- James Wood, The New Yorker

"I was thrilled by the way Knausgaard dared to explore the absolutely mundane, while also being unembarrassed about considering the utterly transcendent. While the books are often extremely funny, they are also an exemplary argument for the value of taking oneself, and one's life, seriously, and I could not be happier that there are still three more volumes to go." -- Rebecca Mead, The New Yorker (Best Books of the Year)

"The narrative: Love, Anger, Guilt. Repeat. Predictably, as a parent myself, I found His Struggle absorbing, delicate, clever, cannily plotted." -- D.T. Max, The New Yorker (Best Books of the Year)

"Both Knausgaard's Proustian style and the fact that his work is one long book stretched out into many volumes, just like In Search of Lost Time, should signal that it's a literary event the likes of which we probably will not see again in our lifetimes. . . . Unlike almost every other work of art released in the 21st century, Knausgaard's massive book is an ongoing cultural event that we're being afforded the opportunity to savor." -- Jason Diamond, Flavorwire


"...reading My Struggle, you have the sense that Knausgaard has made a wonderful discovery, an almost scientific innovation. My Struggle is something new, something brave..." -- n + 1

"KARL OVE KNAUSGAARD. MY STRUGGLE. It's unbelievable. I just read 200 pages of it and I need the next volume like crack." — Zadie Smith, via Twitter

"Achieves an aching intimacy, one that transcends the personal and makes Knausgaard's pursuit of grand artistic ideals, his daily joys and misgivings, strangely familiar." — Time Out New York 

"It would not be an exaggeration to say that Karl Ove Knausgaard's six-volume memoir "My Struggle" (Archipelago Books) — of which three volumes have been translated into English — has catapulted the Norwegian writer into the rarefied company of such authors as James Joyce, Marcel Proust and Henry Miller. These writers burst forth with a new consciousness and in so doing became the voice of their generation. Years hence we will be talking about Knausgaard's incredibly detailed memoir cycle doing the same for the late 20th century." — The Providence Journal

"A six-volume literary experiment in which a contemporary Norwegian author describes his own life may sound dull. But Knausgaard's literary experiment is both brutally honest and far from dull. Trust me, it'll be worth waiting for volumes three through six to appear in English translation." — Jo Nesbo, in The Week (one of Jo Nesbo's six favorite books)

"MY STRUGGLE is a revolutionary novel that is highly approachable, even thrilling to read. The book feels like a masterpiece––one of those genuinely surprising works that alters the tradition it inherited." — Bookforum

" Knausgaard's cycle...is poised to become a true global sensation
...there is an utterly unique genius to the books." — The Christian Science Monitor

"Boyhood, so little given to evaluation, assessment, or argumentation, is instead a study of immersion. It is a pure-state immersion: not immersion in something, not a study of something, but immersion per se. With a nod to Roland Barthes's dream of a language returned to its simplest, Adamic roots, we might call this immersion degree zero, a similarly paradisiacal (or childlike) fantasy. It is the function of the novel as a genre stripped to its barest essential. Little in Boyhood is allowed to get in the way of that goal. Not the prose, which in Don Bartlett's translation is as swift and unornamented and unmannered as possible, as if aiming for pure continuation and sequence, as if driven by an almost childlike desire to keep moving to the next thing. Not the narrative rhythm, in which the sheer mass of a few random childhood days exerts a gravitational pull that distends and stretches into a time almost equivalent to the time of reading itself...Glistening surfaces, constantly in the act of opening up—and always, as a result, transfixing." - Nicholas Dames, Public Books

"My Struggle is a book so private it feels like a sanctuary. . . [Knausgaard is] the great chronicler of the modern condition." — Ian Brown, The Globe and Mail


"One of the most anticipated books of the year (or the decade)." — Financial Times (UK)

 "[Knausgaard is] one of the most remarkable authors who have emerged in recent years … he is in the process of becoming a global superstar." — The Economist (UK)

 "Via his visceral, immersive art, Knausgaard makes the heart visible as he conjures 'the intensity that only exists in childhood'."— The Independent (UK)

"A compelling memoir of times we cannot know." — The London Evening Standard

 "an immediacy as astonishing as that of its two predecessors. . . . In Don Bartlett's lively vernacular translation, My Struggle will, I am convinced, outlive the furore, welcoming or hostile, of its first appearance." — Paul Binding, The Spectator (UK)

"extreme artlessness creates a far more intense realism than we might have thought possible, a confessional novel that outdoes most confessions." — Times Literary Supplement (UK)

 "...With each subsequent book of his that is translated into English, Mr. Knausgaard continues to solidify his reputation as one of the most vital writers working today." — The Observer

"It would be wrong to suggest that Karl Ove is just an Everyman-plus-shading, and that Knausgaard has simply lucked out. Historical factors may account for why My Struggle has become a "phenomenon" but they can neither explain nor dilute the novels' richness. Yes, Knausgaard appeals to the modern appetite for warty portraiture and off-page bust-ups and has chronicled middle-class Norwegian life during the country's "exceptionalist" phase. To a loud anglophone minority, he constitutes a thrillingly boring alternative to boringly diverting invention. But he also displays a tremendous and irreducible zeal for penetrating what Karl Ove, reeling after a date with Linda, calls "the inner core of human existence" – an effort that brings fame to some but not others, and in which he has no obvious superiors among the writers now available to an English-reading public." — The New Statesman

"MY STRUGGLE is a revolutionary novel that is highly approachable, even thrilling to read. The book feels like a masterpiece––one of those genuinely surprising works that alters the tradition it inherited. . . . What makes MY STRUGGLE so hypnotizing––a word more than one reviewer has used to describe it––is in part the pleasurable surprise of seeing habits of mind (your apathy at a dinner party, or envy of a friend's tracksuit, or momentary frustration with your partner) that normally go unrecorded put down in exhaustive detail. But it's also the interplay between those lengthy, hyperrealistic scenes of everyday experience and what are in effect meditative essays." — Meghan O'Rourke, Bookforum

"Though a boyhood so honestly rendered cannot claim the title of 'innocence,' it can be termed wondrous." — AskMen

"When Knaugaard writes about culture and art, his observations are transcendent; not only has he fully digested what he has seen and read, his references fit seamlessly. . . This is quintessential Knausgaard: a complexity of ideas generated out of true observation. . . relentless, fascinating and unflagging self-scrutiny." —The Rumpus
 
"While many are busy bemoaning the death of bookshops and literature, Knausgaard is a surprising, relieving phenomenon that is sweeping the world. . . [he is] undoubtedly the literary star of the moment." — Outlook India