Abecedarios: Mexican Folk Art ABCs in English and Spanish (First Concepts in Mexican Folk Art) (Hardcover)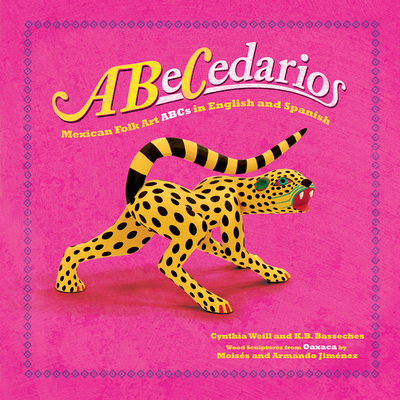 Email or call for price.
Not Available at This Time
Description
---
A bilingual ABC book featuring beautiful, vibrant photographs of hand-carved animals from Oaxaca, Mexico.
This beautifully-illustrated, bilingual ABC book is fun for young readers and the adults reading with them. Each letter is illustrated with a photograph of a hand-carved animal in the folk tradition of Oaxaca, Mexico. The wood sculptures are carved in beautiful detail and painted eye-catching bright colors that little readers will love. Weill's choice of animals is delightfully quirky (you'll never guess what she chose for 'X') and provides a great opportunity to practice different letter sounds in Spanish and English, as each animal is named in both languages. Unlike other alphabet books, this board book includes several letters that are specific to Spanish, such as the and ll. Whether you're already a bilingual family or hoping to become one, this book is a great place to start.
Brothers and master carvers Armando and Mois's Jim nez created the animals for the illustrations, which are then sanded by their children and hand painted by their wives, Anton a and Oral a. They are following in a family tradition of wood carving that goes back to their grandfather, Manuel, who began carving animals in the 1950's using wood from the copal trees that grow nearby. The carvings have proved so popular that eighty families in their town of Arrazola, Oaxaca now make their living from carving wooden sculptures.
ABeCedarios is a sturdy board book, just the right size for little hands, and durable enough to withstand many re-readings. Little ones will love the adorable animals and bright colors. This is the perfect book for laying the foundations of bilingual literacy for your child, and makes a great gift for new parents, toddlers, and appreciators of Mexican folk art
About the Author
---
Cynthia Weill is a professor and mentor to teachers at Columbia University's Teachers College. She also owns a business--Aid to Women Artisans--that promotes the craftwork of artisans from developing countries. ABeCeDario is her second book. K.B. Basseches is an artist and an art educator. She taught Art Education at Virginia Commonwealth University until the birth of her son. She is now a full-time mother and fine artist. In 2005, she developed and curated a touring exhibition of adult, university and child artists' works to benefit the child victims of Hurricane Katrina.
Praise For…
---
"Seemingly the typical alphabet book with large type, this volume stands out for its artwork: gorgeous animal wood sculptures created in Oaxaca. Every letter is illustrated with a full-page photograph of a colorful hand-carved animal whose name either begins with or includes that letter." —Críticas, starred review

"Featuring vibrant wooden sculptures by a Oaxacan family of artists, the primer offers up animals both familiar (the flamingo/ el flamenco") and unusual, such as the nutria and vicuña, for each letter of the alphabet, as well as for uniquely Spanish sounds, such as ll," ñ" and rr." The highly saturated color backdrops and stunning sculptures should win over readers of all ages." —Publisher's Weekly

"Highly recommended; even adults will enjoy lingering over the unique animal artistry."—Midwest Book Review, starred review

"The sculpted figures display personality and enough vibrant energy to leap off the pages. Unusual or rare creatures-a hybrid Zedonk, a unicorn, and imaginary "X" animal-appear as examples in whimsical colors and imaginative patterns. An attractive choice for folk-art study or libraries with large collections of artistic ABC books."—School Library Journal

"Children's books with Spanish and English text side-by-side are not uncommon, but this one has an extra treat: photos of animal carvings by a well-known family from Oaxaca, Mexico...lovely and colorful creatures that add charm to the book. Certainly something to catch a child's eye."—The Santa Fe New Mexican Magazine