Graveyard Shift (Paperback)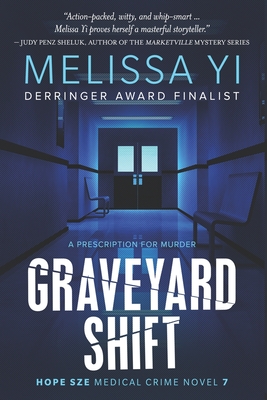 $14.99
In Our Warehouse - Expected arrival in 2-5 days
Description
---
Drugs. Alcohol. Violence. Chaos.
All in a night's work for Dr. Hope Sze, aspiring Montreal emergency physician-until someone tries to strangle her with her own stethoscope.
Then Hope's lover disappears.
A second woman barely escapes throttling before her beloved vanishes too.
Hope slogs through the pneumonia and hemorrhoid patients cramming the ER while a psychopath stalks the empty, post-midnight hallways of St. Joseph's Hospital.
Waiting. Waiting patiently.
Until everything explodes.
"Ms. Yi has crafted another compelling story filled with suspense, murder, and emergency room drama. Captivated from the start, I read the entire book in one sitting. Days later, I continue to shake my head in amazement at the many unexpected twists and turns in this well-plotted, character-driven novel." -Joanne Guidoccio, author of the Gilda Greco Mystery Series
"Worst. Night. Shift. Ever. That's the premise behind Graveyard Shift, and once again Yi proves herself a masterful storyteller as she takes us on another adventure with the ever-so-human Dr. Hope Sze. Filled with twists, turns, and plenty of humour, this is one killer emergency room, but don't worry-you'll be turning the pages so fast, you'll be out of there before you've finished your second cup of very bad coffee." -Judy Penz Sheluk, author of the Glass Dolphin and Marketville Mystery series.
"Bruises, bloodwork and betrayal. Hope's latest night shift will leave you breathless The detective doctor dukes it out with addicts, hoodlums and God in her latest thriller. This is one night shift that will keep you wide awake - a real page turner from the first scene."-RH Nix, author of The Golden One
"An engrossing read with laugh out loud moments balanced with poignant social commentary. Murder and mayhem set in a painstakingly detailed modern hospital. Hope Sze always delivers "-Dawn Kiddell, CEO and Chief Librarian, Cornwall Public Library
"Dr. Hope Sze steps into a Montreal ER packed with sick and snarky patients and is immediately thrust into a world of thrills, spills, and homicide. Abandon all Hope Sze who enter the Graveyard Shift." -Dr. Frank Warsh, coroner and author of The Flame Broiled Docto
.PRAISE FOR THE HOPE SZE SERIES
One of the best Canadian suspense books to read at the cottage ... a scarier-than-ever medical mystery.
Margaret Cannon, The Globe and Mail, on Human Remains
#1 Mystery Selection-CBC Books, on Human RemainsRecommended authors include Louise Penny and Maureen Jennings
One of the best crime novels of the season. CBC's The Next Chapter Mystery Panel, on Stockholm Syndrome
I love Melissa Yi's work. Medical thrillers that shine with authenticity and are impossible to put down ... sharp, original and edgy. -Kristine Kathryn Rusch, New York Times bestseller.