Yours Sincerely, Giraffe (Hardcover)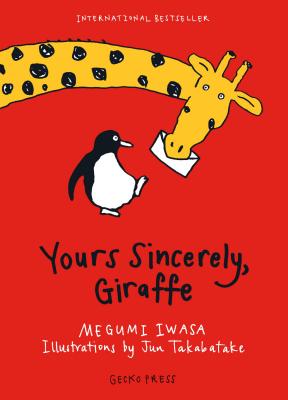 $16.99
Email or call for price.
Description
---
New York Public Library, Top 10 2017

The international bestselling and award-winning illustrated chapter book for ages 6-8.

Giraffe, who lives in Africa, is bored as usual. He'd love a friend to share things with. So he writes a letter and sends it as far as possible across the other side of the horizon. There he finds a pen pal--Penguin. But it's hard to imagine someone you've never seen...

Giraffe knows nothing about penguins and his letters are full of questions. What does a penguin look like? Where is a penguin's neck?

And so the letters begin to fly from horizon to horizon.

Emerging readers will love this absurd and funny story about what connects us, and finding friendship in unlikely places.

With simple line drawings--including handwritten letters--on every page, this witty and accessible story is a perfect book to start independent readers on a lifetime love of reading.

Originally published in Japan where it is a much-loved classic, Yours Sincerely, Giraffe is now a popular success all around the world.

"This is a rare book: joyful, ingenuous, playfully earnest" --Kirkus

Megumi Iwasa studied graphic design and lives in Tokyo.

Jun Takabatake is one of Japan's best-loved children's illustrators. His illustrations have been exhibited throughout the world, and he has won many international awards.
Awards
- New York Public Library, Top 10, 2017
- Chicago Public Library, Best Fiction for Younger Readers, 2017
- German Youth Literature Prize Winner, 2018
- USBBY Outstanding International Book List, 2018
- 11 Best Books for 4 to 7-year-olds, The Independent, 2016

Praise for Yours Sincerely, Giraffe

"With beautifully simple illustrations and a hope-filled ending, it is an ideal introduction to Japanese literature." --The Independent

"The combination of short narrative, dialogue, letters, and humorous pen-and-ink drawings is a winning one." --Booklist starred review

"A lovely story such as this, presented so well, is the kind of book to set a pre-teen youngster on a lifelong romance with books and literature." --Magpies Magazine

"This Japanese import will charm beginning readers who enjoy a bit of witty humor with their animal adventures. The pen-and-ink illustrations are simple yet have a Quentin Blake feel that rounds out the characters and their quirky behaviors." --School Library Journal starred review