The Legend of Zelda Tears of the Kingdom Strategy Guide Book (Full Color - Premium Hardback): 100% Unofficial - 100% Helpful Walkthrough (Hardcover)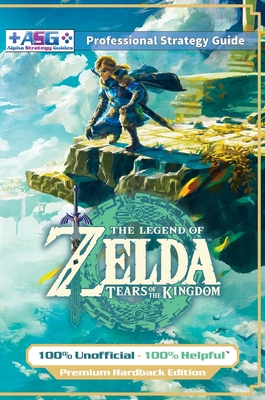 $31.49
Email or call for price.
Description
---
***** Experience your guide in a new light with our premium hardback edition. Vibrant color reproduction, sturdy protection, and thicker paper results in a luxurious reading experience. *****
From the publisher that brought you the No.1 selling (and highest-rated) Link's Awakening strategy guide, comes our biggest guide to-date.
Our expert guide to the challenging Tears of the Kingdom leads you on an exhilarating journey, teaching you all about the amazing new gameplay mechanics that take you across the numerous flying islands, all above Hyrule, up snow-covered vistas, through lava-filled mountains, and all the way down to the Gloom-packed dangerous underground depths. All while keeping it as spoiler-free as possible.
Join us now as we show you how to unlock the game's secrets, as this in-depth guide teaches you how to solve every Shrine, master every ability, find those pesky Korork Seeds, cook amazing dishes, locate some of the best weapons/armor, and how to effortlessly defeat your enemies. Complete with area maps, we give you the help you need to defeat Ganondorf once again.
Whether you're a newcomer or a seasoned Zelda veteran, our strategy guide is the ultimate companion to getting the most out of the latest Zelda masterpiece.
In our guide you'll find solutions to:
✔ Every main story mission (allowing you to witness its amazing ending),
✔ Solve every Shrine (all 152 of them - unlocking an awesome reward for doing so),
✔ How to master Link's new physics-based powers (and build some crazy contraptions ),
✔ Find the best weapons and armor that the game has to offer
✔ Find those pesky Korok Seed (yes, they're back )
✔ How to cook up the most potent Recipes and Elixirs for super-powerful buffs,
✔ And a whole lot more...
This is the strategy guide that will get you through to the end of one of the greatest (and largest ) Zelda adventures of all time