Bedtime Stories for Kids: Collection of stories to help children reduce stress and anxiety, learn mindfulness meditation and go to sleep feeling (Hardcover)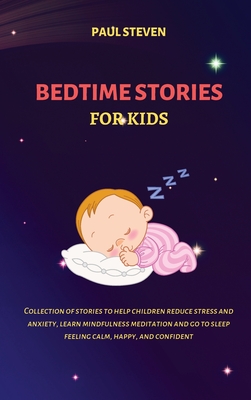 $35.99
In Our Warehouse - Expected arrival in 2-5 days
Description
---
55% discount for bookstores Now at $35.99 instead of $45.99
If you're looking for stories to help your child fall asleep safe and happy with the skill of mindfulness, then this is the perfect book
Your clients are becoming to be very satisfied and won't be ready to do without this book
The reading time before bed has practical effects, and, when kiddos are so young, they are doing not necessarily understand the sensible benefits.
They only know that they enjoy having a story being read to them. Storytime before bed is bonding time with Mom or Dad or both. Kids are soothed to sleep by the sound of their mother or father's voice.
The bedtime story is that the inspiration for the dreams that your child may need in the dark.
It's also the food for the child's conscious mind as they are going about their day. Children also are greatly influenced when it involves personality traits.
Through stories, our youngsters learn many of the values and character traits that they're going to hold on to and hopefully demonstrate later in life as they get older. Kids learn who they need to emulate, who they need to be, and the way they ought to treat others. With fantasy stories, there's one extra benefit; it works out their mind and imagination and provides the gift of what might be.
It is remarkable how things that never were and never are going to be can serve us in life. Our fantasy worlds give us gifts just like the concept of inclusion of all species and other people, even those from space. Fantasy gives human voices and words to animals and machines, even robots. Fantasy helps us learn to empathize with people and creatures that are entirely different from us. It teaches us to think before we react to something unfamiliar and the way those that aren't like us might feel from our words.
They're feeding their child's imagination. what's so important that is that the imagination is where our greatest and most vital creations, inventions, and concepts come from. Those creations and inventions become subsequent generation's technology. The ideas grow bigger and opened up to become movements. Sometimes, those ideas become stories of their own for the subsequent generation of readers and dreamers.
This Book Covers:
THE SUCCESSFUL PARTY
EAT ME
THE MOTHS 24
THE GUY WITH RED HAIR
CAVITIES
THE SHADOW
DIVERSITY IN FAMILY
A DREAM IN THE TRAIN
FAIRYLAND
A MAGICAL RIDE
THE STRANGE DIAMOND
THE SQUIRREL WITH AN ANT IN ITS HEART 69
THE MYSTERIOUS WRITER
THE ELIXIR OF LONG LIFE
A LONG-AWAITED RETURN
THE NIGHT BUS
With imagination, we traveled back in time and interacted with pirates, knights, and dinosaurs. Once we were sad, our fantasy world cheered us and made us smile. Our fantasy world gave us something to share with our friends, who, in turn, helped us grow emotionally and creatively.
IF YOU WANT MORE FROM THIS BOOK, BUY IT NOW.