Looking for Leo: A Nail-Biting Psychological Suspense Thriller (Paperback)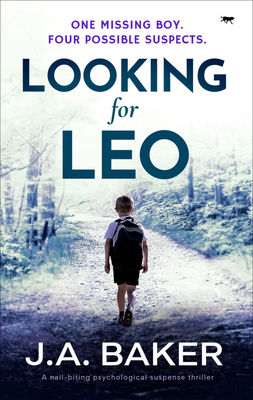 $15.99
Email or call for price.
Description
---
When a boy goes missing from a small English village, deadly secrets and paranoid suspicions collide in this psychological thriller.

When Ashton was a child, he committed a heinous crime. Now he's back in the North Yorkshire town where the traumatic event took place, having taken a job as an art instructor. Though it's good to be home, he fears unwanted attention—especially after an older teacher recognizes him as the troubled boy from all those years ago.

When eight-year-old Leo disappears on his way home from school, a desperate search begins. Then a local woman hears of Ashton's return and reports him to the police. Being added to a short list of suspects is a frightening turn of events for Ashton. But it's not nearly as terrifying as Leo's predicament: being locked in a soundproof room, wondering what his unpredictable captor will do next.
About the Author
---
J.A. baker was born and brought up in Middlesbrough and has a love of local history and genealogy. She is married to Richard, has four grown up children, a grandson and an over excitable dog called Theo who is definitely the master of the house and licks to death anyone who is brave enough to enter. She works full time in a local primary school as a Teaching Assistant. After gaining an MA in Education & Applied Linguistics with the Open University, she found herself with what is laughingly called spare time and embarked on doing something she always wanted to do - write a novel. Four years ago she moved house to a village in County Durham and decided to use the area as inspiration for her novel Undercurrent. Her house backs onto the river and has a public footpath run past the end of the garden. Therein the similarity ends! She enjoys reading many genres of books but thrive on being scared. She is an addict of thrillers, suspense stories and anything that keeps her awake at night yet ironically is frightened of the dark...