Mr Invisible: A Gripping Serial Killer Thriller (Paperback)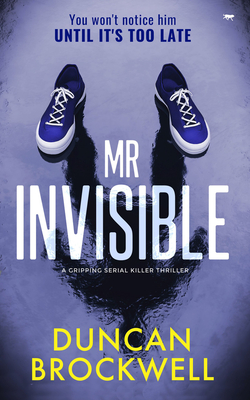 $15.99
Email or call for price.
Description
---
You won't notice him... until it's too late.

When Detective Inspector David Coates is tasked with finding the killer of a woman found naked and strangled in a bin in undergrowth in East Sussex, he has no idea what he is about to face. With little to go on, he hopes the hummingbird tattoo on the victim's abdomen will help solve the mystery of her identity. Meanwhile, on the other side of the world, Georgina Shaw, a minor celebrity, receives a message from one of her followers who calls himself Elf Man. When DI Coates discovers that the DNA on the dead woman's body belongs to Arthur Peebles, a man who went to prison for murder sixteen years earlier, the investigation is thrown into question. As Elf Man closes in on Georgina, DI Coates realises that the key to the case lies in Australia. Is there a link between Elf Man and the body in the bin? Could Arthur Peebles, now a free man, be up to his old tricks? One thing is for certain; Coates has his work cut out.
About the Author
---
DC Brockwell lives in Burgess Hill, West Sussex, with his wife, Beks and rescue cat, Olivia. He works as a dental technician for Elite Dental Studios in the day, and writes crime/horror/action and adventure/romance stories in the evenings and weekends. After completing his dental technicians' course at Lambeth College in March 2018, he sat down and started taking his writing more seriously, completing five first drafts of novels in a year. A graduate of criminology and criminal justice studies at the University of Portsmouth, he has always had an interest in crime, specifically abnormal psychology. It was while studying criminology that he penned his first (unpublished) novel, which, he says, will never see the light of day. He self-published his first romance novel, The Southern Belles in July 2019, under his pseudonym, Katie Simpkins, a name both he and Beks chose together. His first crime novel is a contemporary and gritty crime drama.