Antarctica: The Melting Continent (Hardcover)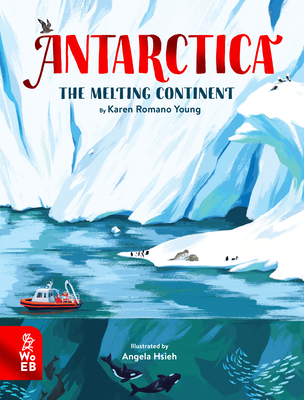 $24.00

In Our Warehouse - Expected arrival in 2-5 days
Description
---
Antarctica-vast, cold, and mysterious. This frozen continent is full of incredible stories. Here you can discover incredible wildlife, awe-inspiring landscapes, and adventurous scientists and explorers.
Join author Karen Romano Young on a trip across Antarctica, hanging out with people and animals and learning about how this special place is changing, and what it means for our planet. Hang out with some of the coolest creatures on earth above and below the ice as you meet emperor penguins, killer whales, and elephant seals. Suit up for the cold and explore some of the harshest landscapes on earth, following in the footsteps of brave explorers. And learn about how scientists survive here today and what they do all day-from studying climate change to investigating ice cores almost a million years old to learn about the history-and future-of our planet.
About the Author
---
Karen Romano Young is a writer, illustrator, science communicator, and polar explorer. She has written more than two dozen books for children, and has illustrated several, including the groundbreaking graphic novel Doodlebug and the forthcoming graphic nonfiction Diving for Deep-Sea Dragons. Her acclaimed science books include Try This!, Mission: Sea Turtle Rescue, and Shark Quest. She is the creator of a science comic called #AntarcticLog, which took her to Palmer Station, Antarctica, and a veteran of seven ocean science research voyages, including dives to the bottom of the ocean. Karen's novels include Hundred Percent and A Girl, a Raccoon, and the Midnight Moon. Karen lives in the Connecticut woods with her husband and a big furry dog.Angela Hsieh is a Taiwanese American illustrator whose life choices can mostly be explained by the fact that she likes goofy animals. She once visited Antarctica and can confirm that penguins, as cute as they are, smell awful. Her clients include The New York Times, The New Yorker, NPR, Medium, and Nautilus. She is writing and illustrating a graphic novel about adventure and discovery, about the way that language and distance shape relationships, and about giant animals.