Pantomime (Paperback)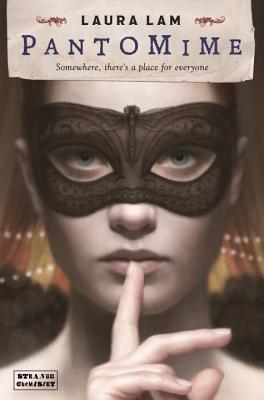 $9.99
Email or call for price.
Description
---
2014 Bisexual Book Award Winner for Speculative Fiction
2014 Rainbow List Selection
R.H. Ragona's Circus of Magic is the greatest circus of Ellada. Nestled among the glowing blue Penglass - remnants of a mysterious civilisation long gone - are wonders beyond the wildest imagination. It's a place where anything seems possible, where if you close your eyes you can believe that the magic and knowledge of the vanished Chimeras is still there. It's a place where anyone can hide.
Iphigenia Laurus, or Gene, the daughter of a noble family, is uncomfortable in corsets and crinoline, and prefers climbing trees to debutante balls. Micah Grey, a runaway living on the streets, joins the circus as an aerialist's apprentice and soon becomes the circus's rising star. But Gene and Micah have balancing acts of their own to perform, and a secret in their blood that could unlock the mysteries of Ellada.
About the Author
---
Laura Lam was raised near San Francisco, CA by two former Haight-Ashbury hippies. Both of them encouraged her to finger-paint to her heart's desire, color outside of the lines, and consider the library a second home. This led to an overabundance of daydreams.

She relocated to Scotland to be with her husband, whom she met on the internet when he insulted her taste in books. She almost blocked him but is glad she didn't. At times she misses the sunshine. The author lives in Scotland, UK.
Praise For…
---
"Pantomime by Laura Lam took me to an exotic and detailed world, peopled by characters that I'd love to be friends with...and some I'd never want to cross paths with."
-Robin Hobb, author of the Farseer Trilogy
"Set in a vividly imagined world with wonderful steampunk touches, Pantomimeis a fable-like story as beautifully unique as its main character."
– Malinda Lo, author of Ash, Huntress, and Adaptation

"Micah is the most wonderful, complex, brave and contemporary teenage hero I've read, facing issues of identity and responsibility that will resound with any reader who has felt like an outsider. Pantomime is loving in its detail but hints at so much scope to come, it feels like the set up for an epic sequel. I raced through this book, desperate to know what happens next. 'Look out behind you' Robin Hobb…"
- Bryony Pearce, author of Angel's Fury and winner of the 2012 Leeds Book Award

"Welcome to a world of shills and showmen, fading tech and circus freaks, where nothing and no-one is what it appears. An absorbing, accomplished debut."
- Elspeth Cooper, author of the Wild Hunt series

"Who hasn't dreamed off running off and joining the circus? Laura Lam's Micah does just that, discovering a world of clowns and acrobats, con men and tricksters, corruption and incompetent doctors, and maybe more about himself. I look forward to more from this author."
- Brian Katcher, author of Almost Perfect and winner of the 2011 Stonewall Children's and Young Adult Literature Award

"In PANTOMIME, Laura Lam has created a world which will take your breath away, and characters you will never want to leave. Enchanting."
 - Lou Morgan, author of Blood and Feathers

"A lyrical, stunningly written debut novel, which set my heart racing with every lift of the trapeze. In Micah we have one of the most original – and likeable – protagonists I've read in a long time. An author to watch, without a doubt."
- Amy McCulloch, author of The Oathbreaker's Shadow 

Nominated for the 2014 ALA Rainbow list.