Stickeen: John Muir and the Brave Little Dog (Paperback)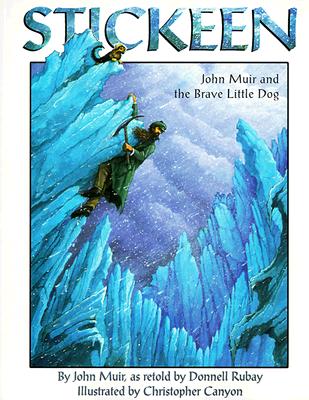 $8.95

In Our Warehouse - Expected arrival in 2-5 days
Description
---
Meet John Muir's trusty dog Stickeen in this classic, true story from the intrepid explorer himself, reimagined as a kids book. Vivid illustrations and beautiful writing combine in a captivating tale about courage and loyalty that both kids and adults will love.
In the summer of 1880 John Muir set out to explore glaciers in Southeastern Alaska with a crew…and a little black dog named Stickeen. At first John didn't want a dog on board: "Such a little pup will only be in the way!" he insisted. But Stickeen's master claimed that Stickeen was a "wonder of a dog."
John reluctantly takes Stickeen on his journey, but the little dog always stays aloof and distant even as he follows Muir's crew. When John and Stickeen are alone together and faced with a nigh-impassable ice canyon, John must find a way across … and Stickeen must find his courage to follow.
Backmatter includes:
What really happened to Stickeen after his adventure with Jon Muir
Additional resources on John Muir
About the Author
---
Donnell Rubay discovered the adventure of Muir and Stickeen during a visit to Muir's home in Martinez, California. Believing that today's children would like to meet Muir and his small friend, she retold the story for a modern audience. Rubay formerly taught high school English and Social Studies. Before teaching, she practiced law. She lives in Benicia, California with her husband and daughter.
Christopher Canyon is the illustrator of several wonderful books for children. When he isn't in his studio, Christopher enjoys traveling and providing educational and entertaining programs for schools, libraries, and conferences. Christopher received his formal art education at the Columbus College of Art & Design in Columbus, Ohio. His work has been selected for many exhibits and publications including the Society of Illustrators, the Mazza Collection at the university of Findlay, Ohio, and the Natural History magazine.
Currently Christopher is adapting and illustrating several of John Denver's songs as children's picture books. The critically acclaimed Sunshine On My Shoulders was released by Dawn Publications in 2003, Ancient Rhymes: A Dolphin Lullaby in 2004, and Take Me Home, Country Roads in September 2005.
Christopher Canyon shares some thoughts on the project: "To have this opportunity to share John Denver's music and message with the children of today is truly a dream. John gave the world so many thoughtful songs about relationships; our global need to live together in peace and the importance of caring for our environment. These messages, as relevant today as ever, and John's music and voice continue to touch our lives and lift our spirits."
Three of Christopher's books, Sunshine On My Shoulders, The Tree in the Ancient Forest and Stickeen, have won the American Bookseller Association's Benjamin Franklin Award for best children's picture book of the year. Chistopher is also the illustrator of Wonderful Nature, Wonderful You and the beautiful Earth trilogy, Earth and You - A Closer View: Nature's Features, Earth and Us - Continuous: Nature's Past & Future, and Earth and Me - Our Family Tree: Nature's Creatures. Christopher lives with his wife and cat in central Ohio.