A Rocketful of Space Poems (Hardcover)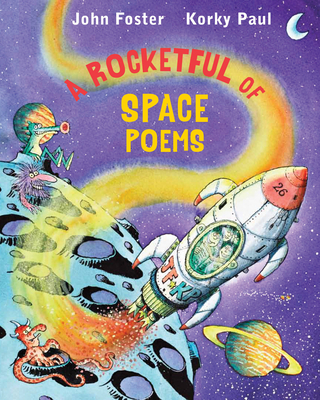 Email or call for price.
Out of Print - Not Available at This Time
Description
---
Top poets across the English-speaking world present: A Rocketful of Space Poems. This poetry anthology features a space theme throughout, ensuring kids (and their parents) will love every page. Covering everything from space wizards to Peter Pluto's fast-food superstore, this collection has everything young poets could want.
Fly into space, drive to the moon, meet an asteroid dog and a flurb blurp, and then play intergalactic Squibble-Ball. There are wizards and witches in space, as well as Peter Pluto's fast-food superstore – and the worst monster in the universe… What are you waiting for?!
About the Author
---
John Foster was a teacher for 20 years before becoming a full-time writer. He is the author of twelve books of poetry and over 150 anthologies. He has performed at all the UK's national book festivals and visits schools and libraries regularly. His books include The Poetry Chest, The Oxford First Book of Poetry, Dinosaur Poems, Dragon Poems and Magic Poems. He lives in Oxfordshire.
KORKY PAUL was born in Harare, Zimbabwe. He is a well known figure in the children's book world and among his illustrated work is the highly-successful Winnie the Witch series. He lives in Oxford.
Praise For…
---
"This is a lovely, lilting anthology of poems....Be sure to display this during poetry month in April—it should fly off the shelf."--Booklist - Booklist

"Whimsy and wordplay are the highlights."--School Library Journal - School Library Journal

"the verses (most of which are rhymed) roll along merrily, and Paul cranks up the silliness with page-filling views of garishly colored planets, tentacle-waving, googly-eyed extraterrestrials, and spaceships sporting many extravagant pipes and rivets." - Kirkus Reviews

"There is lots of ammunition to get kids writing their own space poetry here, and it's great to see a poetry book attractively produced and in full colour."  - Book Trust