The Winter Sea - Dark Water Daughter (Paperback)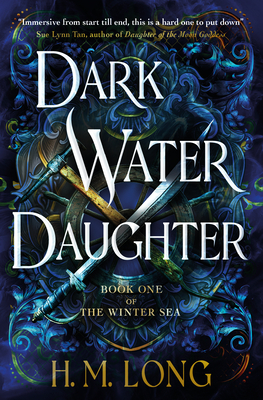 $16.95

In Our Warehouse - Expected arrival in 2-5 days
Description
---
A stormsinger and pirate hunter join forces against a deathless pirate lord in this swashbuckling Jacobean adventure on the high-seas.

Launching the Winter Sea series, full of magic, betrayal, redemption and fearsome women, for readers of Adrienne Young, R. J. Barker and Naomi Novik.

Mary Firth is a Stormsinger: a woman whose voice can still hurricanes and shatter armadas. Faced with servitude to pirate lord Silvanus Lirr, Mary offers her skills to his arch-rival in exchange for protection - and, more importantly, his help sending Lirr to a watery grave. But her new ally has a vendetta of his own, and Mary's dreams are dark and full of ghistings, spectral creatures who inhabit the ancient forests of her homeland and the figureheads of ships.

Samuel Rosser is a disgraced naval officer serving aboard The Hart, an infamous privateer commissioned to bring Lirr to justice. He will stop at nothing to capture Lirr, restore his good name and reclaim the only thing that stands between himself and madness: a talisman stolen by Mary.

Finally, driven into the eternal ice at the limits of their world, Mary and Samuel must choose their loyalties and battle forces older and more powerful than the pirates who would make them slaves.

Come sail the Winter Sea, for action-packed, high-stakes adventures, rich characterisation and epic plots full of intrigue and betrayal.
About the Author
---
H. M. Long is a Canadian fantasy writer, author of HALL OF SMOKE and TEMPLE OF NO GOD, who loves history, hiking, and exploring the world. She lives in Ontario, but can often be spotted snooping about European museums or wandering the Alps with her German husband.
Praise For…
---
"Dark Water Daughter was full of atmospheric scenes with imagery of winter, snow, and cold raging seas ... Make sure to have a hot cup of tea close by, because the hauntingly chilling atmosphere of the stormy seas will have you fighting a chill."
Yakima Herald Republic


"A wonderful adventure! Dark Water Daughter swept me to the high seas with its captivating story, rich original lore, fascinating characters, and slow-burn romance. Immersive from start till end, this is a hard one to put down."
Sue Lynn Tan, Sunday Times bestselling author of Daughter of the Moon Goddess


"Intricately crafted, stunningly unique, and so vivid you can almost taste the frigid air of the Winter Sea, Dark Water Daughter is my favorite H.M. Long book yet."
Genevieve Gornichec, author of The Witch's Heart


"Dark Water Daughter is a unique and breath-taking slice of high seas fantasy – H. M. Long gives us deliciously complex characters to root for and a world full of surprises. I didn't know I needed these fantasy pirates and their freezing ocean until they sailed into my life. Enormous fun!"
Jen Williams, award-winning author of the Winnowing Flame trilogy


"Dark Water Daughter is a compelling, propulsive adventure that serves as a spectacular start to Long's new series. The vast world and intriguing lore are complex in a way that feels effortless; it might just be Long's best work yet. I was utterly engrossed."
M.K. Lobb, author of Seven Faceless Saints


"Everything you could want in a fantasy novel"
Richard Swan, Sunday Times bestselling author of The Justice of Kings


"Long opens up a gripping, wildly original universe packed to the brim with wonder: sentient figureheads, songs that harness the wind, and a cast of rogues, villains, and exiles in pursuit of freedom—sometimes with terrible cost. Every twist left me surprised and enthralled. Fantasy readers, come aboard and enjoy the ride."
Allison Epstein, author of A Tip for the Hangman


"Dark Water Daughter is excellent. Fresh fantasy grounded in seafaring lore and the golden age of piracy - a fantastical 17th century-esque epic adventure. I can't wait for more."
Christopher Irvin, author of Ragged


"H.M. Long's Dark Water Daughter is a deftly executed and highly entertaining combination of high seas adventure and flintlock fantasy, enriched by a duo of engaging leads and an original take on magic. A tale that deserves to rank alongside RJ Barker's The Bone Ships and Robin Hobb's The Liveship Traders in the top rank of maritime fantasy."
Anthony Ryan, author of Blood Song, The Wolf's Call and more 


"Outstanding naval fantasy; Robin Hobb meets Master and Commander."
Peter McLean, author of Priest of Bones


"Dark Water Daughter is a ripsnorting, swashbuckling storm of a book. I adored the salty, wintery world (the Age of Sail with a magical twist!) 
and its folklore: shipboard weather witches, mysterious mages and sentient, ghostly figureheads.   
I plunged head first into this story and didn't come up for air until the very end."
Kell Woods, author of After the Forest


"Flintlock fantasy at its best! If you're a Pirates of the Caribbean fan looking for a fresh take that still scratches the itch, Dark Water Daughter is for you. This incredible tale blends elements of classic pirate fantasy with Long's unique, wintry touch and lively voice to create an entirely new world and a fascinating lore-based magic system. Fast-paced action and eye-popping twists and turns will have you glued to this book until the very last page."
M.J. Kuhn, author of Among Thieves 


"[Dark Water Daughter]l showcases what Long does best: create a believable world populated with a range of fleshed-out characters and a strong lead, wrapped in a well-told story. This new series crosses genres and ages and is one that Long's fans will love and new readers will embrace."—Library Journal




PRAISE FOR TEMPLE OF NO GOD


"I am obsessed with what H. M. Long has created—the clear, vivid prose, the captivating mythology, and the absolute force of nature that is Hessa. Utterly enthralling, and a world I loved getting lost in. I can't wait for the next book." 
Claire Legrand, New York Times-bestselling author of Furyborn 


"H.M. Long takes us on another epic, fast-paced adventure in Temple of No God. As exciting and gripping as its predecessor, this standalone in the same world starts with a bang and doesn't let up, full of intrigue, betrayal, and action sequences that don't disappoint. Hessa is a heroine to be reckoned with."
Genevieve Gornichec, author of The Witch's Heart


"Once again, H. M. Long pulls us effortlessly into a landscape of warring gods, tribes and impulses. What a joy to return to Hessa's side as, having battled herself and won, she draws her axes again – this time to build a better world. Sure, there's a fantastic fight scene for everyone and the pace never falters, but where this book really shines is in its emotionally nuanced depiction of character. I can't wait to see what she does next."
Lucy Holland, author of Sistersong


"Long certainly made her entrance known with Hall of Smoke, but with Temple of No God, she solidifies herself as one of the great new voices in epic fantasy. Temple of No God is a story about adventure, war, and godly strife, but at its heart, it is also a poetic yet action-packed exploration of grief, longing, and obligation. Bold characters, shocking twists, and heart-pounding action will keep you turning pages long after lights out." 
M. J. Kuhn, author of Among Thieves


"This book is a bonfire on a bleak winter night. Exciting and dangerous, brilliantly plotted and paced, this is the perfect followup to Hall of Smoke. Come for the axe-smash battles, the crumbling empire, the dangerous cults, and the perfect puppy companion, and then stay for all of that stuff, because it rules."
Joshua Johnson, author of The Forever Sea


"While knowledge and responsibility weigh on Hessa in a manner reminiscent of many warrior-legends of popular European mythology and heroic fantasy, Temple of No God does not succumb to the dreary moroseness of the aftermath of conquest. Instead, we get to witness Hessa relish her role as victor while contending with her status as a vanquisher. Fantasy readers who like their heroes battle-hardened yet thoughtful and tender–not in spite of war but because of it–will enjoy Temple of No God."
Suyi Davies Okungbowa, author of Son of the Storm


PRAISE FOR HALL OF SMOKE:


Hall of Smoke is the kind of fantasy I love, filled with both high stakes and tender, nuanced human emotion. Add to that lyrical writing and intriguing world building, and you have a truly special debut. Not to be missed. - Jessica Cluess, author of the Kingdom on Fire series and House of Dragons


Long gives us a flawed hero, a woman battling grief, rage and – perhaps most poignant of all – doubt. It is thrilling to stand beside Hessa as she stares into the abyss and begins to reassemble herself there. Long's writing is elegantly understated, filling out Hessa's complex world without ever stranding us – we are with her through every stumble and triumph. Hall of Smoke is ultimately a book about what it means to have your deepest illusions shattered and still scrape together the courage to begin again. A vivid and compelling debut. - Lucy Holland, author of Sistersong


Hall of Smoke is a breath of fresh air. The world is unique, the fights are top-notch, and the cast is unforgettable. A dazzling, fast-paced story with clashing civilizations, squabbling gods, and an indomitable heroine caught in the center of it all, Hessa's is a tale that will grab you from the very first line and won't let you go. I can't wait to see what Long comes up with next. - Genevieve Gornichec, author of The Witch's Heart


Hessa is a brilliantly written heroine, and I could easily have spent another 400 pages with her. The book's world-building is intricate and refreshingly original, and it all ramps up to a finale that is the dictionary definition of epic. - Allison Epstein, author of A Tip for the Hangman


The story world was rich and real, and I have rarely read a fantasy novel that transported me like Hall of Smoke did. If you are a fan of myths and legends where gods and goddesses roam the earth and meddle with the poor mortals that serve them, you are in for an absolute treat with this book. - M. J. Kuhn, author of Among Thieves