100 Bodybuilding Workouts: The Best Expert-Designed Muscle Building Workout Plans to Burn Fat and Build Muscle for All Fitness Levels (Hardcover)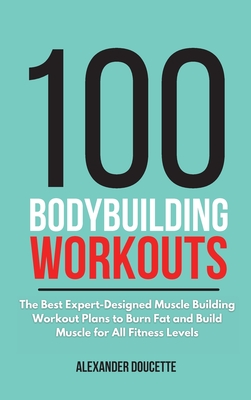 $31.95
Email or call for price.
Description
---
55% OFF for Bookstores only BUY NOW at $31.95 instead of $42.95
Have you been going to the gym for several months now, yet you feel as if you don't look any different? Or maybe you feel as if, for the amount of time you put into the gym, you should be a lot bigger or a lot more muscular than you currently are..
It doesn't matter if you've never set foot in a gym before―this book will have you bulking up in no time. 100 Bodybuilding Workouts is the ultimate guide for new bodybuilders.
Learn how to build muscle and burn fat with detailed walkthroughs of 100 different weight lifting routine that'll work your legs, chest, arms, and everything in between.
Looking for a quick start without the guesswork?
100 different bodybuilding style workout programs will increase both your strength and your confidence.
100 routines divided in:
programs for beginners to gain mass
beginner programs for muscle definition
programs for intermediates to increase muscle mass
programs for intermediates to increase muscle definition
advanced programs to increase muscle mass
advanced programs to increase muscle definition
You have no more excuses for not achieving your physical goals. Don't waste any more time and start lifting weights and improving your physique today with the programs in this amazing book.
Push your personal limits and begin building your dream physique by learning how to properly challenge your body during weight training.
Start by setting up your home gym and learning important fundamentals of weight training, as you discover the best moves to create a balanced, symmetrical physique.
Buy it NOW and let your customers get addicted to this incredible book